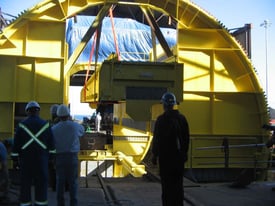 Maintenance involves any actions that are necessary to conserve the condition of a piece of equipment to achieve its maximum useful life, while compensating for normal wear and tear. Routine operations are performed to both keep the device in working order and prevent trouble from arising. Different machines often have their own best practices and maintenance schedules that are unique to their own operation. Similarly, upgrades are the replacements of mechanical or electrical systems with a newer or better version, in order to bring the entire system up to date and improve its overall functionality.
The primary goal of preventive maintenance is to avoid the consequences of equipment failure. This includes planned adjustments during specific times, so equipment degradation can be detected and worn parts can either be repaired or replaced. The primary goal of corrective maintenance is to identify, isolate, and rectify a fault when the equipment has broken down, so that it can be restored to an operational condition as quickly as possible. This is often much more expensive than preventive maintenance, because worn equipment can damage other parts and cause multiple damages.
Railcar dumpers have operational lives that are often measured in decades, and must be properly maintained. It is a key system in the transfer of coal, coke, iron ore, wood chips, limestone or other bulk materials from rail to the plants that process them. A breakdown at this point could be catastrophic for both the supply line and the businesses involved.
Heyl & Patterson is a railcar dumper manufacturer that offers replacement parts and upgrade services for the company's own machines as well as for those made by other manufacturers. In addition to increasing the lifespan of a dumper, upgrades and replacement parts make the work environment safer and elevate a dumper's performance and efficiency, saving time and money. An existing dumper can also be converted into one capable of handling heavier loads more easily and securely. Upgrades also permit dumper owners to better plan and provide for capital expense efficiencies by identifying parts that need replacement, rather than necessitating a more extreme overhaul in the case of an emergency repair.
Dumper upgrades include a full array of field-tested enhancements that can be used once or on a continual or as-needed basis, in order to accommodate heavier loads with greater reliability and reduced maintenance costs. This decreases the potential for future problems while extending dumper life.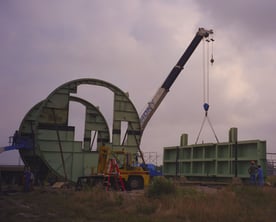 Mechanical upgrades increase dumper reliability as they decrease the possibility of an unexpected breakdown. Electrical upgrades are engineered to ensure peak performance, smoother operation, and reduced wear with added safety features.
In addition to upgrades, proper maintenance is essential to ensuring durability and longevity. Proper maintenance includes periodic inspections, which catch problems in their initial stages before they become catastrophic. Necessary inspections include visual, mechanical, structural and electrical evaluations, and they evaluate the need for adjustment, maintenance, monitoring and/or replacement. Heyl & Patterson has a comprehensive four-part inspection program, which includes:
A review of the dumper's inspection history and maintenance program, including a list of recommended spares in inventory, as well as problems and concerns
A visual inspection of the structural integrity of mechanical components, focusing on critical adjustments and key components
Observation of normal operating conditions to identify critical issues and to recommend required tune-ups
A handwritten report of the inspection results, and a more formal follow-up that clearly explains exactly what was inspected, problems detected and recommended solutions
In addition to an inspection service, Heyl & Patterson offers field service as a portion of its maintenance services in order to extend equipment life. Field services involve consultation on parts installations, outage planning, maintenance recommendations, upgrades and start-up assistance. Additional engineering studies monitor equipment to track operating performance and reliability. With proper maintenance and upgrades, a dumper can last more than a lifetime.
For more information on Heyl & Patterson upgrades to railcar dumper systems, contact us or click here: