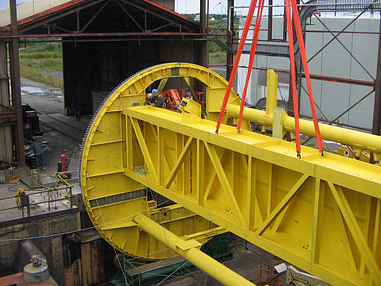 Few things are built to last these days. Even fewer are built to last a century. Heyl & Patterson recently provided replacement parts for equipment built in 1913. To put that in perspective, when that particular machine went into service, the Ford Motor Company had introduced the first moving assembly line, the Lincoln Highway became the first road to cross the United States and the modern zipper had just been invented.
In order to be useful for several decades, Rotary Railcar Dumpers must be properly maintained. Heyl & Patterson offers replacement parts and upgrade services, for our own products as well as for those made by other manufacturers. In addition to increasing the life of a dumper, upgrades and replacement parts make the work environment safer and elevate a dumper's performance and efficiency, saving time and money.
Custom upgrades are one way to ensure the long life of a dumper. Heyl & Patterson can convert an existing dumper into one capable of handling heavier loads more easily and securely. Upgrades also permit dumper owners to better plan and provide for capital expense efficiencies by identifying parts that need replacement, rather than necessitating a more extreme overhaul in the case of an emergency repair.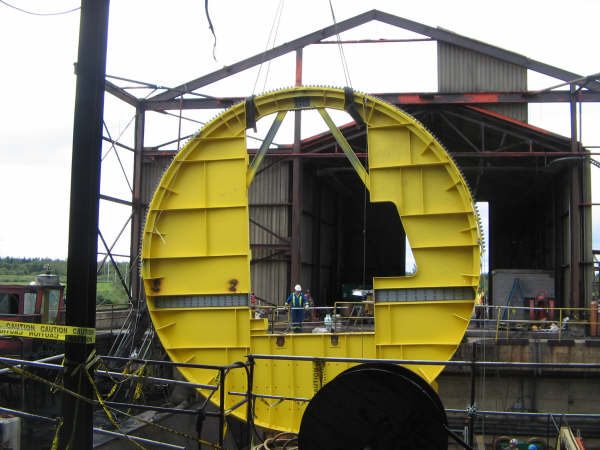 Dumper upgrades include a full array of field-tested enhancements that customers can use once or on a continual or as-needed basis, in order to accommodate heavier loads with greater reliability and reduced maintenance costs. Several innovative designs permit a more uniform spread of weight, which decreases the potential for future problems while extending dumper life.
Mechanical upgrades increase dumper reliability as they decrease the possibility of an unexpected breakdown. Electrical upgrades are engineered to ensure peak performance, smoother operation, and reduced wear with added safety features.
In addition to upgrades, proper maintenance is essential to ensuring durability and longevity. Proper maintenance includes periodic inspections to ensure operating efficiency. These inspections catch problems in their initial stages before they become catastrophic, and they identify necessary upgrades.
Necessary inspections include visual, mechanical, structural and electrical evaluations. Inspections evaluate the need for adjustment, maintenance, monitoring and/or replacement. Heyl & Patterson's four-part process comprises a comprehensive inspection program. These steps include:
A review of the dumper's inspection history and maintenance program, including a list of recommended spares in inventory, as well as problems and concerns
A visual inspection of the structural integrity of mechanical components, focusing on critical adjustments and key components
Observation of normal operating conditions to identify critical issues and to recommend required tune-ups
A handwritten report of the inspection results, and a more formal follow-up that clearly explains exactly what was inspected, problems detected and recommended solutions
In addition to an inspection service, Heyl & Patterson offers field service as a portion of its maintenance services in order to extend the life of a dumper. Field services include consultation on parts installations, outage planning, maintenance recommendations, upgrades and start-up assistance. In addition, Heyl & Patterson offers engineering studies to monitor equipment and maintain peak operating performance, reliability, and life of the equipment. With proper maintenance and upgrades, a dumper can last more than a lifetime.
For more information on Heyl & Patterson's railcar dumper upgrades click here,