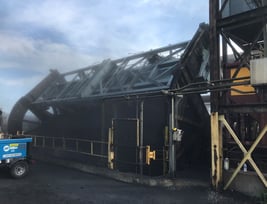 Bulk material handling equipment is an investment, it's a large expense, and its useful life is often measured in decades. But what happens when that useful life comes to an end after 40 years of service, and there is no capex budget for a replacement? That's when H&P steps in to help you rehabilitate aging equipment for a longer future of material handling. H&P will help customers to progressively replace equipment components to return aging machinery back to its original specs.
CASE STUDY | TURNOVER DUMPER REHABILITATION
In this scenario a Texas based turnover dumper had surpassed its useful life. after 40+ years in service, the unit began to fail. The customer did not have the allocated funds for a new dumper but had to maintain operation. H&P works with them on a step by step replacement component plan, which eventually will provide an essentially new dumper over time. This solution keeps them running without blowing their budget.
The first step for this rehabilitation project was to complete a comprehensive inspection of the dumpers' mechanical, electrical and structural components. Originally installed in 1978, the platen & bottom truss of this turnover dumper were decaying among other issues. After the completion of the inspection, the critical items for repair were assessed and categorized by importance.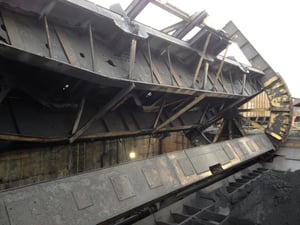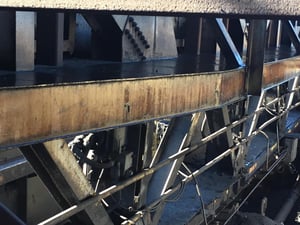 ACTION ITEMS


| | |
| --- | --- |
| Drive System | Motor-reducer coupling requires adjustment and servicing. |
| End Rings and Trunnions | The entry end ring had two sets of racks that were loose at the time of the inspection. Paint on the end rings and most of the dumper was peeling off and exposing metal causing heavy deterioration. |
| Hydraulic Car Clamps | Repairs and routine maintenance are necessary to the six car clamps to assure they will perform as required. |
| Spillwall Trusses | Deterioration of the steel in both the bottom and top spill wall trusses and the bolts that connect supporting steel members needs to be replaced or reinforced. |
| Dumper Counterweight Structure | A crack has formed in the counterweight structure center offset area. Removing the outside plate and possible repairs to the parent steel may be required. |

Based on the listed concerns we prioritized the most critical components for immediate action. The platen and bottom truss posed the biggest threat to the well-being of this dumper, so we got right to work on engineering replacements.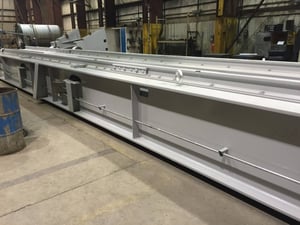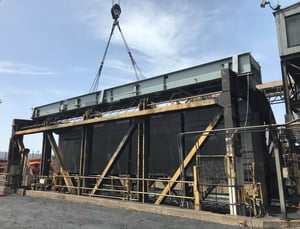 Our Field Service Consultants were on-site to assist in the in the replacement of these critical parts. With a new platen & bottom truss in place, this turnover dumper is now operational. The long-term rehabilitation plan will eventually replace the end rings. Slowly, but surely this dumper will evolve into a new machine, but in the meantime, operation can resume without extended downtime.
Contact us for more information about replacement parts and upgrades for bulk material transfer equipment. We are here to help your equipment continue to run smoothly, no matter its age. Check out our Railcar Unloading Systems and the upgrades we offer here: