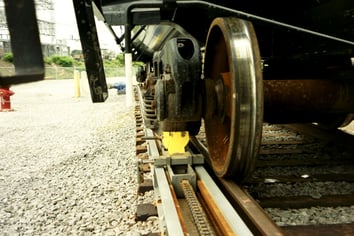 Repositioning railroad cars in a rail-switching operation has always been a formidable task. Prior to the development of specialized railcar movers, full-size locomotives were often employed to move the cars across relatively short distances. Locomotives are very expensive and overpowered for the situation. They often require a special rail yard design to allow them to move cars around or out of the way of connecting rail carriers, while older locomotives used specifically for this purpose may not have readily available parts.
Heyl & Patterson takes the problems out of railcar positioning with the compact, capable and cost-effective CUB railcar mover. This electromechanical machine is capable of moving up to 13 railcars at a time, utilizing a steel runway that is bolted to the ties adjacent the track rail. Two pivoting claws securely capture the railcar truck frame, and a chain and sprocket assembly propels the car along the track in forward or reverse. The CUB is powered by a variable speed motor installed next to the track, on a small concrete pad.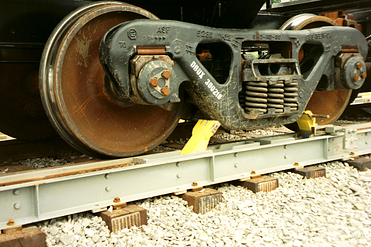 The CUB Railcar Mover is safe, easy to install, environmentally friendly and far less costly than larger systems, making it the ideal solution for small to mid-sized railcar loading, unloading and repositioning applications. Backed by Heyl & Patterson's experienced engineers and technicians, the CUB has successfully aided power plants, river terminals, grain terminals, feed mills, chemical plants and waste disposal facilities.
And if more than just a few railcars need to be moved, Heyl & Patterson also offers solution for larger applications, with railcar indexers for up to 30 cars in a string, and rack-and-pinion or wire rope train positioners for entire trains of up to 200+ cars.
Visitors to the Coal Handling & Storage Conference can learn about the CUB and other car movers, and how they can benefit a loading or unloading operation. The Coal Handling & Storage Conference is a uniquely targeted exhibition not only for the coal industry, but also for all bulk material handling professionals, since many of the equipment and processes are the same and only the actual materials differ. This conference provides operating companies with a way to stay up to date on the latest technologies -- and more importantly, the ever-more-stringent regulations -- and to interact with others who may have different perspectives.
Among the topics to be discussed at this year's conference, which is now also supported by the Coal Preparation Society of America (CPSA):
Challenges of operating aging infrastructure
Coal shipment and delivery
EPA compliance
Magnets and lasers in coal handling
Coal dust suppression programs
Coal yard optimization
The Coal Handling & Storage Conference will feature a keynote session with Betsy Monseu, Chief Executive Officer, American Coal Council; Jacob Williams, Vice President of Coal Emissions and Conversion Technologies, Peabody Energy; and Warren Woods, Vice President of Legislative and Regulatory Affairs, Ameren Missouri.
The Coal Handling & Storage Conference will be held on October 5-7, 2015 at the Hyatt Regency St. Louis at the Arch in St. Louis, MO. Heyl & Patterson will be exhibiting at Booth #314.
For more information about Heyl & Patterson's railcar moving capabilities for bulk material handling, click here: