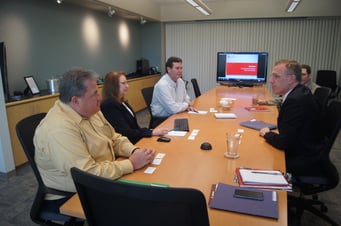 Heyl & Patterson played host to Congressman Tim Murphy (PA-18) and Carnegie, PA Mayor Jack Kobistek on Friday, May 8. They sat down with company president John Edelman and vice presidents Linda Wienand and Len Walnoha to discuss community involvement and the state of the energy and manufacturing industries, following a tour of the company's offices. As a business in the energy industry, Heyl & Patterson is seen as an important player in Pittsburgh and the local region.
Heyl & Patterson was founded in 1887, and grew as Western Pennsylvania's coal, steel and mining industries grew. The company's roots in the region run deep, and it remains a small business with a focus. H&P has over a century of experience as a designer and manufacturer of rotary railcar dumpers, train handling systems and barge unloaders. It also has many decades of experience with rotary dryers, fluid bed dryers and calciners, and was a team member for the award-winning DryFining project with the U.S. Department of Energy's National Energy Technology Laboratory.
Congressman Murphy was most interested in how issues in the manufacturing and coal industries have affected Heyl & Patterson. Murphy began his seventh term in Congress in January 2015, and represents the 18th Congressional District of Pennsylvania. His portion of Southwestern Pennsylvania has grown into a world leader in the research, development, and transmission of energy, and he holds a senior position on the House Energy and Commerce Committee as Chairman of Oversight and Investigations, and is also a member of the Health and Environment & Economy subcommittees.

Coal is also a historic focus of the Carnegie Borough, and Heyl & Patterson fits with the town's industrial history. Incorporated in 1894, it was named for Andrew Carnegie, whose steel company became the town's largest employer. Coal mining and the neighboring railroads literally helped fuel the industrial expansion of Pittsburgh and the United States in the late 19th century.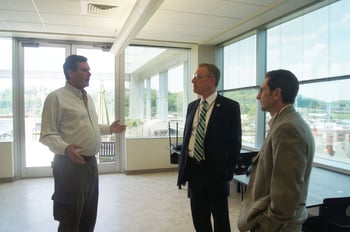 Aside from industrial issues, the discussion with Mayor Kobistek turned to the company's integration into the local community since relocating to Carnegie in July 2014. Since the move, Heyl & Patterson has sponsored the 8th Annual Carnegie Volunteer Fire Department 5K Run/Walk, employees have led efforts to adopt or neuter the stray cat population, and some have volunteered at the nearby Andrew Carnegie Free Library & Music Hall. The company has also become the Carnegie United Methodist Church's new best customer for its pierogi Wednesdays. The company also recognizes that its new location is amid very diverse religious community -- houses of worship for Catholics, Protestants, Jews, Islamists, Russian Orthodox and Ukrainian Orthodox are all within close proximity -- and has pledged to help when needed.
Heyl & Patterson was built on the coal industry, and the company has diversified in recent years as attitudes toward coal have changed, but there has been a steadying influence over the years. John Edelman is a third-generation H&P president, and there been an Edelman at the helm for nearly a century. His grandfather, Harry Edelman, Jr., was hired as an accountant in 1917, and would become integral to the company's growth in the mid-20th century as he rose through the ranks to become president and chairman of the board. Harry Edelman III began his time with the company in 1950 and succeeded his father as president in 1965 before stepping down in 1991. He remained as chairman of the board for many years after that, and finally retired with nearly 60 years of service. John Edelman started with the company in 1979, has been president since 1998, and has done his best to maintain a healthy work environment. Heyl & Patterson has made the list of Best Places to Work in Western Pennsylvania for the past three years.
Heyl & Patterson would like to thank Congressman Murphy and Mayor Kobistek for their visit, and for their support.
For more information about Heyl & Patterson happenings, the equipment we manufacture and the industries we serve, contact us or click here to subscribe to our blog: