Railways keep the grain industry moving, quite literally. The majority of grain movement throughout North America is handled by truck, barge and rail logistics. Grain elevators, loading terminals and a variety of other facilities need to be able to index cars in order to get them loaded, unloaded and well on their way. Heyl & Patterson has perfected the art of railcar positioning in a simple and effective manner.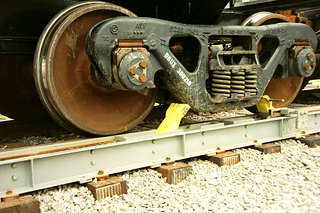 Frequently, locomotives are used to position cars. A locomotive is a very expensive piece of equipment and is highly overpowered considering the scenario for which it is being used. Heyl & Patterson's CUB allows for the positioning of railcars compactly and cost effectively. The CUB can efficiently move any type of railcar, hopper, tank, etc
.
There are many benefits to utilizing a CUB. The CUB removes the need for spotting, as its automated system removes the potential for human error, and accurately positions each car an exact predetermined distance, unlike locomotives and trackmobiles. The use of a CUB simplifies any loading and unloading operation as it takes only a single person to operate. The CUB is track is bolted directly to the existing rail ties, making it easy to install in any facility. Two pivoting claws securely hold the railcar's truck frame, and a chain and sprocket assembly propels the car in either a forward or backward direction. The CUB is powered by a variable speed motor installed adjacent to the track.
The CUB is a safe and efficient way to position railcars. Many other railcar movers utilize hydraulics which can increase the amount of necessary maintenance and open up the facility to the risk of a hydraulic leak/spill, which can be very costly to reconcile. The CUB's electromechanical design requires less maintenance, and is a safe addition for grain elevators or any rail loading/unloading terminal.
The CUB is an ideal solution for small to mid-sized railcar loading or unloading operations. It has successfully replaced less efficient railcar movers in variety of plants and terminals handling fuel, chemicals, sand and a variety of ag products.
To learn more about Heyl & Patterson's railcar moving capabilities, please download our railcar movers brochure.