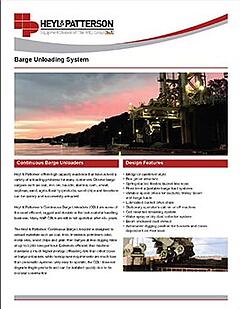 Since 1887, Heyl & Patterson has designed and constructed efficient, rugged and durable barge unloading equipment for use in bulk material handling. These high capacity machines have solved a variety of unloading problems for many customers across several industries. Diverse cargoes such as coal, corn, soybean, wheat, agricultural by-products, wood chips and limestone can be successfully unloaded. As part of our continuing efforts to update our customers on our product lines, a new Barge Unloaders brochure has been added to the Bulk Transfer Division line of literature.
Heyl & Patterson designs have become the standard in several industries over the decades. The continuous bucket elevator unloader solved the problem in the electric utilities industry of unloading coal barges faster, more efficiently and more economically. The design was so successful that it was adapted to solve the same problems in the grain industry.
Because of this connection, this new brochure will debut at the GEAPS Exchange in St. Louis, MO on February 22-24. GEAPS, short for the Grain Elevator And Processing Society, is an membership organization that focuses on the world of grain handling industry operations. GEAPS Exchange is the group's annual technical conference and exposition.
On this new brochure, the key image on the front panel shows one of our a Continuous Barge Unloaders (CBUs) handling grain on the Mississippi River, and unloading is peformed by a series of buckets supported between two strands of roller chain running in a continuous loop. As part of the company's Bulk Transfer Divison, this literature is signified by its green color scheme. Heyl & Patterson's new Barge Unloaders brochure includes information on machines such as:
Bridge Style CBUs, for double slip applications
Cantilever Style CBUs, for single slip applications
Midstream CBUs, for midstream terminal transfers
Extreme Water Level Change CBUs, for drastic fluctuations in water level
Grab Bucket Unloaders, in stationary and traveling styles
Barge Haul Systems, for positioning barges before, during and after unloading
The CBU features a much higher digging capacity and average unloading rate to go with its greater number of buckets, along with easier operation and less spillage. The grab bucket unloader is more suited for smaller operations, working in a continuous duty cycle of hoist-travel-discharge-travel-lower, and can be engineered to travel short distances along tracks running parallel to a river. The CBU averages of 75-80% of the free digging rate and higher peak capacities of up to 6000 tons per hour, while the grab unloader achieves offloading rates of up to 1500 tons per hour and averages about 50% of the free digging rate over the entire barge.
In addition to this capital equipment, Heyl & Patterson is also a trusted partner after the sale, to cover the complete operational life of customers' machines. This wide range of services also includes replacement parts and upgrades whether the equipment was purchased from our company or another manufacturer, as well as inspections to maintain operation at peak performance and field service to help extend a machine's life. Additional literature in the green-branded Bulk Transfer Division line includes CBU Upgrades, Railcar Dumping Systems, Hammermills, Dumper Upgrades and Railcar Movers.
For more information on Heyl & Patterson's Barge Unloaders, click here: