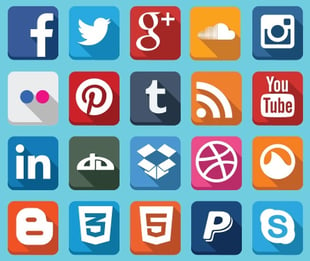 Social media enables users to interact with one another online to create, share and exchange information and ideas in virtual communities. Some people credit the birth of social media as we know it to the networking website Six Degrees, which pioneered the idea of social circles in 1997, but gave way to Friendster, followed by MySpace and later Facebook. It actually goes back much further. The concept of an online social network evolved from a number of sources, including the CompuServe file-sharing service launched in 1969, the world's first email sent in 1971 and the dialup Bulletin Board System (BBS) and Usenet newsgroups of the late 1970s and early 1980s, before the World Wide Web took over in the early 1990s. Arguably, prehistoric cave paintings could even be considered the very first form of social media.
Today's multitude of social media channels are a far cry from its beginnings. Most platforms are now household names, and internet users continue to spend more time with these types of sites than any other. Heyl & Patterson prides itself with keeping up with these social trends. Social media allows the company to provide new content and deliver customer service all in one effort. All corporate channels are regularly monitored for brand mentions and customer questions, so people can always find help if they need it.
Here is a brief look into each channel, and what to expect from Heyl & Patterson:
The word "blog" was coined in 1997 as the shortened form of "web log," and several independent parties can claim to have invented blogging. A typical blog is an informational website providing commentary on a particular subject, combining text, images, links and other media. The Heyl & Patterson Blog publishes every Wednesday with a new and different topic each week, and recently celebrated five years online. (If you're reading it right now, you may already know that.) Subjects are a mix of news, products and applications from our thermal processing and bulk material handling divisions, as well as press releases, trade show appearances and speaking engagements. All articles are posted to the other social media channels.
Twitter was created in 2006 as an instant microblogging service to generate real-time buzz, and it has been useful in updating corporate activities, posting about live events and conveying crucial news during natural disasters. It is a unique way to share content that needs to reach many people, and users need less rapport to establish a connection. Twitter features instant messages known as "tweets" that are limited to 140 characters, so brevity must always be observed. The Heyl & Patterson Twitter feed launched in October 2010, to discuss general industry information and cross-promote other channels. Twitter is also the first place many customers with pre-sales or support related questions might reach us.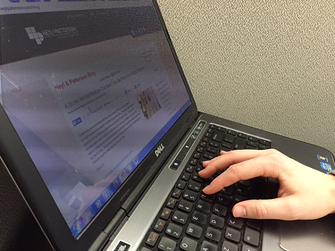 LinkedIn was created in 2003 as a professional networking site. Its more formal format is more in keeping with a corporate image, and it enables users to share industry and business-focused content. LinkedIn also supports the formation of interest groups covering a wide range of topics. The Heyl & Patterson LinkedIn page has been active since October 2010, and features corporate news with an overview of products and services. The company also has a private group for the Heyl & Patterson Dumper User Group, where customers have a year-round forum to ask questions and receive answers from H&P personnel.
Facebook was created in 2004 as a social networking service exclusive to Harvard University students and eventually opened up to anyone over the age of 13 with a valid email address. It is now is an accepted means of communication, with Instagram to enable users to add special filters to their images. It is a constant virtual social gathering filled with photos and videos to share, music and movies to rate, games to play, and seemingly no topic is left untouched. The Heyl & Patterson Facebook page launched in December 2010, and it has become somewhat of a public company newsletter. Posts include photos from employee events and office happenings, trivia and random fun things.
Google+ was launched in 2011 to much fanfare, and as Google's fourth venture into social media, it replaced Google Buzz, Google Friend Connect and Orkut. It contains some of the features of its predecessors, plus some from other sites. It favors different types of relationships with connections grouped into "circles" and video chat called Hangouts. The Heyl & Patterson Google+ account launched in 2014, and posts mainly business news.
YouTube was created in 2005 as a forum to post and share original video content. Thanks to YouTube, the phrase "viral video" is now very common, meaning that so many people have shared a video clip that it has spread around the world like a virus. The Heyl & Patterson YouTube channel has been around since December 2009, which is almost ancient history by social media standards. It is home to industrial videos of railcar dumpers, train positioners and continuous barge unloaders, plus television interviews and archive video of the first railcar dumper ever built.
Pinterest is a pinboard-style photo-sharing website launched in 2010, which allows users to create theme-based image collections centered around their interests. Users browse other pinboards for images, re-pin images to their own boards and like their favorite photos, similar to early bookmarking websites. The Heyl & Patterson Pinterest boards launched in December 2012, and maintains a few pinboards based on vintage equipment and employee photos from our archive.
Flickr is an image and video hosting website launched in 2004 that allows users to build online photo collections. It is now owned by Yahoo, and in some ways, it is a predecessor to Pinterest. The Heyl & Patterson's Flickr albums launched in February 2012, with several photo sets based on vintage historical photos and public-domain engineering drawings, as well as a few videos.
These channels are merely the tip of the iceberg in terms of today's social media. While there is also Reddit, StumbleUpon, Yammer, Plaxo, Tumblr, Xing, Delicious, Snapchat and a myriad more, the amount of involvement by any company always depends of the nature of their business. Essentially, it is whatever they can handle and where their customers might be.
For updates on the social media activities of Heyl & Patterson or to learn about our company, the equipment we engineer and the markets we serve, contact us or click here: