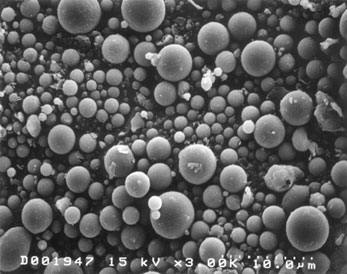 Despite all the advances of modern technology, coal is still a major fuel source for many communities and industries. The United States and China are two major countries that still rely heavily on coal to produce electricity, as well as for industrial uses. While steps are being taken to make coal burn cleaner and more environmentally friendly, there are still the byproducts that come with its use. One of the most common end results is the ash it produces, which in many places is accumulating faster than it can be disposed of. The picture to the right, courtesy of the United States Department of Transportation's Federal Highway Administration, shows coal ash particles at 2000X magnification.
The United States alone produces over 100 million tons of coal ash every year. That adds up to a lot of material, and it obviously does not account for quantities that are generated in other parts of the world. Ash is often stored in pools known as tailing ponds as a way to keep it from contaminating the atmosphere, but storing it does not make it go away; It just puts the ash in a location separate from the plant that generated it. In order to reduce these deposits, it has become necessary to transform the ash into something else entirely. Any potential product must be something that is in demand, and can be used every day.
While coal ash can be a risk if handled improperly, it also provides an opportunity for those who are willing to seek creative solutions by turning dangerous waste into a useful product.
Through a relatively simple process, coal ash can be transformed from harmful waste into a usable material. For example, drying coal ash can lead to the material's use as an additive in grout, concrete and cement, which are in no small demand thanks to building projects around the world. Coal ash can also be compressed and used as a foundation for road beds. Given the sheer amount of infrastructure in the U.S. that is either currently being overhauled or is planned to be, it is possible that millions of tons of coal ash could be converted into something significantly more useful.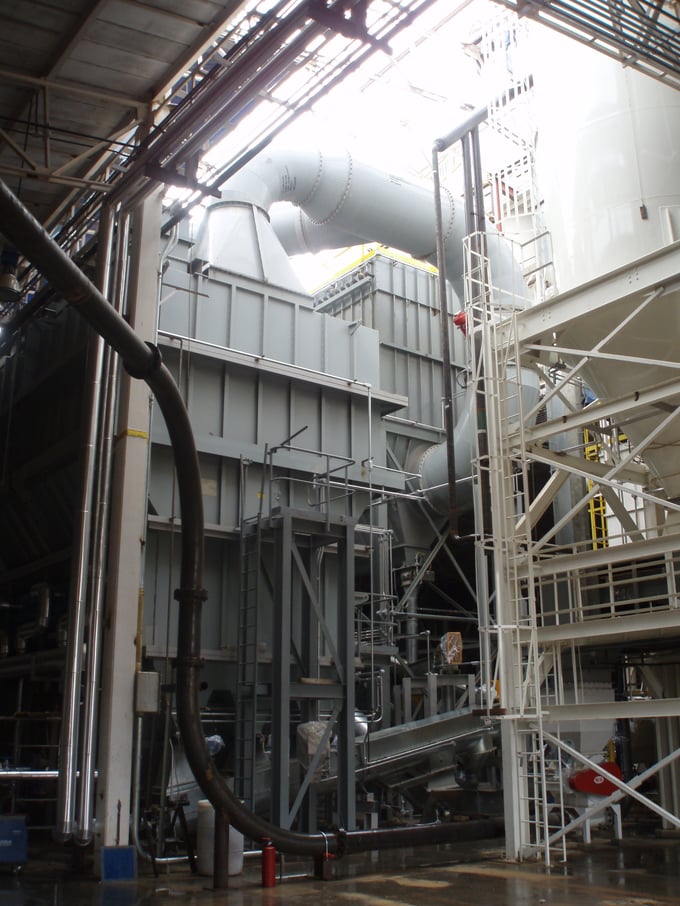 Depending on the moisture content of the ash and how fine it is, industrial drying systems can dry it for easier handling and transportation. Heyl & Patterson custom designs this equipment in order to best suit a specific application. The company also offers a pilot plant lab facility to test the proper applications and designs for coal ash drying.
Fluid bed dryers from Heyl & Patterson are among the most efficient and cost-effective dryers on the market. Some designs can handle light, powdery material like fly ash or granular materials like bottom ash, while others can handle materials that exhibit characteristics not normally conducive to fluid bed processing, such as sludges, filter cakes and agglomerates, and would be ideal for tailing pond sediment. Choosing the correct type involves complex calculations that combines engineering considerations of specific product properties, available process requirements and economics.
A continuous flow fluid bed dryer removes moisture and produces dried bulk solids by processing materials in a heated flow of gas. The particles are suspended in a rising stream of heated gas that cause the solid particles to move like a fluid. The natural characteristics of the fluidized mass places extensive particle surface area in full and constant contact with the drying gas. The thorough exposure generates a very high rate of heat and mass transfer for effective, efficient drying.
While converting coal ash from a harmful byproduct into a useful product can take time, it is also a measurable, known quantity. Whether there is a large reserve of coal ash to be recycled, or the generated ash needs to be processed on a regular basis, Heyl & Patterson fluid bed dryers offer a method of handling the buildup.
For more information on Heyl & Patterson fluid bed dryers and how they can handle and process coal ash, contact us or click here: