Safety is undoubtedly the greatest concern for all rail facilities. A loading or unloading facility can quickly become a dangerous place when a railcar is not securely positioned. Soul Asylum said it best, "Runaway train never going back, wrong way on a one way track." So how do you prevent a runaway train? With chocks!
What is a chock?
A chock is a stabilizing mechanism that allows for the holding of a railcar or series of railcars without the use of a brake.
H&P B Chock
Heyl & Patterson B Chock
This holding system has a pivoting forward pawl system that engages the front wheel of the truck around the centerline of the wheel. In conjunction with the forward pawl is a traveling rear pawl assembly that pivots to move the entire train as much as nine inches.
This system was designed to compensate for the variability of the railcar location introduced by factors such as draft gears, couplings, and track profile. This type is designed with a holding force up to 75,000 pounds.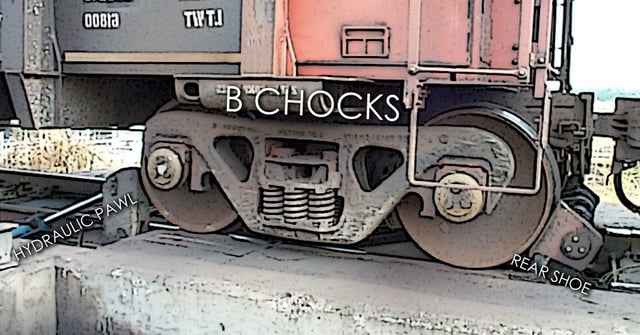 What is it used for?
Chocks are ideal for loading, unloading and classifying operations where it is tedious for a rail operator to continuously set and reset brakes throughout their positioning process. Chocks will hold the train in precise place without the additional work of break setting, saving time and effort.
Chock Life
With proper care and maintenance a chock system can last for 25 to 30 years, adding decades of improved safety and efficiency to any railcar moving operation.
To learn more about chocks and other mechanical improvements,
check out our Dumper Upgrades Brochure!