Railcar unloading has become more advanced and complicated since Heyl & Patterson was established in 1887. In 1984, Heyl & Patterson developed a means to help customers meet the challenges of working with Rotary Railcar Dumpers through an industry first: a conference designed specifically for users of dumpers and related systems. The conference has been a bi-annual event ever since, and has provided genuine benefits to all who attend.
As part of our 125th anniversary, Heyl & Patterson will again bring together users of its railcar dumper systems to discuss the newest technologies and issues that affect their jobs. The 2012 Dumper User Group Conference will be held on September 12-13, 2012 at the Sheraton Station Square in Pittsburgh, PA. The conference theme is "Putting Knowledge to Work."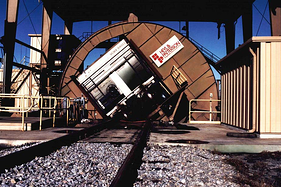 Participants in the 2012 Dumper User Group will gather to share expertise and discuss the newest techniques and processes for efficient operation. This open exchange of new ideas and information yields powerful tools to take back and apply right away on the job.
Attendees will have access to nationally-known expert engineers and technicians, and roundtable discussions will allow participants to exchange ideas and share information. Dialogue will revolve around actual problems and realistic solutions.
Users of railcar dumper systems will leave the conference with real strategies and techniques to implement immediately. This conference will be most beneficial for:
Supervisors
Consultants
Plant Engineers
Foremen
Operators
Safety Engineers
Fuel Staff
Planners
Maintenance Personnel
In addition, an online version of the Dumper User Group is now on LinkedIn. If customers are unable to attend in person, they can still be part of the discussion in real time. Presentation topics will be posted in the order of the agenda, with questions and responses as they happen. However, the LinkedIn Dumper User Group is a private group, for customers only. Heyl & Patterson customers can ask to join at info@heylpatterson.com to follow the discussion.
More details about the 2012 Dumper User Group Conference will be announced as the date approaches. To be kept apprised of future developments, subscribe to our blog: