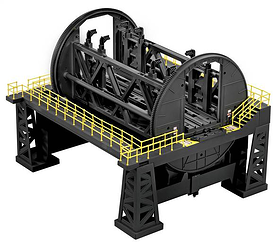 Lionel is the most enduring brand name associated with American model trains, with a devoted following of collectors. Lionel products are O-gauge, meaning a 1:48 scale (a quarter inch equals one foot) to show fine detail. Inside Track magazine, the official publication of the Lionel RailRoader Club, recently contacted Heyl & Patterson regarding our Rotary Railcar Dumpers because one of their newest accessories is a scale model dumper. The article will be in the December 2011 issue.
The product is a new version of the "Rotary Coal Tipple" model that Lionel had discontinued several years ago. It intricately replicates the coal dumping action of the real thing, and creates a good opportunity to take a closer look at the machine it's based upon.
Heyl & Patterson's Bulk Transfer Division has manufactured railcar dumpers, also known as wagon tipplers, since the early 20th Century. Our rotary dumpers are mainly used to transfer steam coal, which is used in the production of steam energy as fuel, and met coal, which is used in metallurgy as fuel for smelting blast furnaces. Other applications over the years have included wood chips, iron ore, bauxite, livestock feed and even medical materials with low levels of radiation.
Single dumpers have a rotation speed of 35 seconds per car, not including the time to position the car in and out of the dumper, and have a dumping rate of 5,000 tons per hour. Single dumpers can handle 36 cars per hour. In tandem configuration, the rotation speed is 85 seconds per pair, with a dumping rate of 10,000 tons per hour. Tandems can handle 50 cars per hour. A triple dumper could be built, but a single or tandem is more feasible for the customer.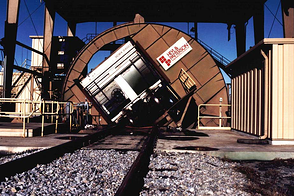 There are two types of dumper systems: random and unit train. Random cars must be uncoupled once they're positioned in the dumper, while unit train cars remain coupled and the coupling rotates during the dumping sequence.
Heyl & Patterson has been in business since 1887, and is among the companies that innovated railcar dumper technology. Heyl & Patterson Railcar Dumpers are in operation all over the world, and we have representative relationships in countries such as Argentina, Australia, Brazil, Chile, India, Indonesia and South Korea.
For more information about Heyl & Patterson, subscribe to our blog: