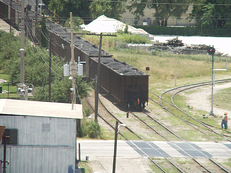 Coal is handled and stored several times during its journey between the mine and the eventual consumer. About 2.5 million tons of coal are burned in U.S. power plants each day. This is equivalent to roughly 21,000 railcars in transit, so coordinating production and consumption is no easy task. Accidents, rail strikes, severe weather and disasters that take out bridges and rail lines can all disrupt deliveries for utility customers who are dependent on a reliable coal supply for their power plants.
Heyl & Patterson designs Rotary Railcar Dumpers to transfer coal from the railroad to the power plant, as well as Barge Unloaders to handle river shipments.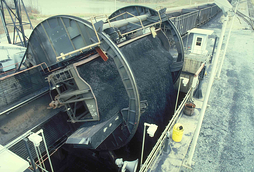 These dumpers and the Hammermills that are often associated with them can operate in any conditions and are built to last. Coal handling is in Heyl & Patterson's blood.
The Coal Handling & Storage Conference is a unique exhibition that attracts coal producers, consumers and stakeholders from the complete midstream coal market, and Heyl & Patterson will be in attendance. The conference provides a valuable way for operating companies to keep abreast of the latest technologies and to interact with others who may have different perspectives. It acts as a showcase for buyers and sellers to exchange information about the latest equipment, technologies and services available to the industry.
Among the topics to be discussed at the convention:
Challenges to the North American coal market
Do's and Don'ts when handling PRB coal
Stockpile management
Coal loading and unloading
Conveyor systems
Transportation, blending and exporting coal to feed global markets
The Coal Handling & Storage Conference will feature presentations from Steve Fiscor – Editor-in-Chief, Coal Age; Justin Clift – Industrial Market Specialist, Hazard Control Technologies; Bob Wolz – Application Manager for Power Plants & Coal, Carman Industries; Harold Walker – Senior President and CEO, PICOR; Mark Gilbreath – Business Development Manager, River Consulting; and Roy Nelson – Director of Field Operations Support, Interstate Energy Solutions.
The Coal Handling & Storage Conference will be held on November 1-3, 2011 at the Marriott Union Station in St. Louis, MO.

For more information about Heyl & Patterson's coal material handling capabilities,