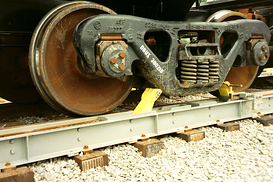 Heyl & Patterson is the maker of the CUB™, a unique railcar and locomotive moving device. Utilizing a steel runway that is bolted to the ties adjacent the track rail, the CUB™ is an electromechanical machine that is capable of moving up to 13 railcars at a time. It's safe, easy to install, environmentally friendly and far less costly than large systems, making it the ideal solution for small to mid-sized railcar loading, unloading and repositioning applications.
Heyl & Patterson will showcase the CUB™ Railcar Mover at Railway Interchange 2011, alongside vendor rep JMA Railroad Supply Co. of Chicago.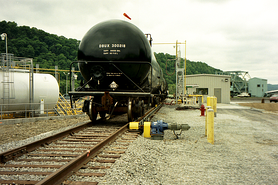 Railway Interchange 2011 will feature an industry first. The show will be sponsored by four organizations that normally hold their own separate exhibitions: the American Railway Engineering and Maintenance-of-Way Association (AREMA), the Railway Engineering-Maintenance Suppliers Association (REMSA), the Railway Supply Institute (RSI) and Railway Systems Suppliers, Inc. (RSSI). The combination of resources promises to be the largest such event in North America, providing railroaders from around the world a unique opportunity to see and hear everything new and innovative across the entire rail supply industry.
Among the topics to be discussed at the convention:
Railway industry update
Fuel savings using the energy miser system
Comprehensive equipment performance monitoring
Roadway worker on-track safety
Environmental permitting issues in railroad construction
How to maximize the benefits from your railroad's large investment
Railway Interchange 2011 will highlight presentations from Raymond LaHood – U.S. Secretary of Transportation; Anthony Hatch – Senior Transportation Analyst, ABH Consulting; Mike Franczak - Executive Vice-President of Operations, Canadian Pacific Railway; Jack Kuhns - President, Graham White Corporation; and Dr. Charles Emely - Executive Director and CEO, AREMA.
Railway Interchange 2011 will be held on September 18-21 at the Minneapolis Convention Center in Minneapolis, MN. Heyl & Patterson will be at Booth #3715.
For more information about Heyl & Patterson's CUB™ Railcar Mover,