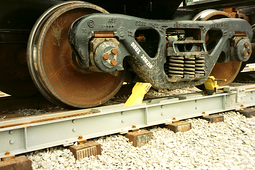 Repositioning railroad cars in a rail-switching operation has always been a formidable task. Before the advent of the railcar mover, large locomotives were often employed to move the cars relatively short distances. Locomotives are very expensive and overpowered for the situation. They often require a special rail yard design to allow them to move cars around or out of the way of connecting rail carriers, while older locomotives used specifically for this purpose may not have readily available parts.
Heyl & Patterson takes a bite out of railcar positioning with the compact, capable and cost-effective CUB™ railcar mover. The ferocious CUB™ is a small electromechanical machine that is capable of moving up to 13 railcars at a time, utilizing a steel runway that is bolted to the ties adjacent the track rail. Two pivoting claws securely capture the railcar truck frame, and a chain and sprocket assembly propel the car along the track in either direction. The unit is powered by a variable speed motor installed next to the track on a modest concrete pad.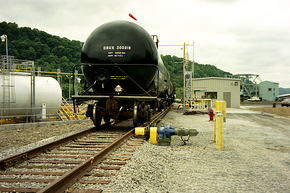 The CUB™ is safe, easy to install, environmentally friendly and far less costly than larger systems, making it the ideal solution for small to mid-sized railcar loading, unloading and repositioning applications. Backed by Heyl & Patterson's experienced engineers and technicians, the CUB™ is easy to operate and install, and is less costly than larger systems. The CUB™ has successfully aided power plants, river terminals, grain terminals, feed mills, chemical plants and waste disposal facilities.
For larger applications, Heyl & Patterson also offers Railcar Indexers for up to 30 cars in a string, and Train Positioners for entire trains of up to 200 cars.
For more information about Heyl & Patterson's CUB™ Railcar Mover, click here: