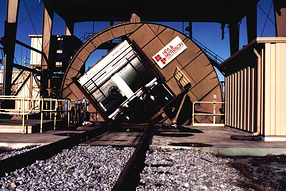 As the name implies, Rotary Railcar Dumper Unloaders are used to unload certain types of railroad cars. Dumpers hold a car to a section of track and rotate the track and car together to dump out the contents. Heyl & Patterson machines feature high speed semi-automatic dumping, rotation times as fast as 35 seconds per car and a dumping rate of 10,000 tons per hour when configured in tandem. Our dumpers can be controlled by just one operator and are ideal for random car or unit train applications.
Heyl & Patterson pioneered the rotary railcar dumper, and has designed and manufactured coal handling equipment since 1887.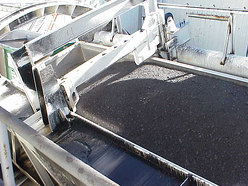 In addition to railcar dumpers, also known as wagon tipplers, we custom engineer barge unloaders, railcar movers and coal processing equipment, and also offer a wide range of aftermarket services and upgrades for all of our products. To showcase these machines, we will attend next week's Coal-Gen 2011 Conference & Exhibition. Coal-Gen is the industry's most dynamic event, covering the latest topics that affect the design, development, upgrading, operation and maintenance of coal-fueled power plants.
Among the topics to be discussed at the convention:
New developments in air pollution control technology
Biomass integration in coal-fired plants
Advances in clean coal technology
Innovative technologies for material handling systems
Ash conversion technology
Reducing emissions through advanced asset management
Coal-Gen will feature presentations from Michael Morris – President & CEO, American Electric Power; Frederick Palmer – Senior Vice President of Government Relations, Peabody Energy; Mark Gilbreath – Manager of Business Development, River Consulting; Norman Shilling – Senior Policy Manager, GE Energy; Nancy Mohn – Director of Marketing Strategy, Alstom Power; and Massood Ramezan – Division Director, Leonardo Technologies. Speaker of the House John Boehner may also speak, schedule permitting.
Coal-Gen will be held on August 17-18 at the Greater Columbus Convention Center in Columbus, OH. Heyl & Patterson will be at Booth #320.
For more information about Heyl & Patterson's coal material handling capabilities,