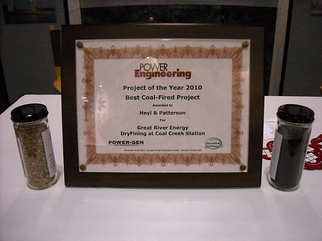 FOR IMMEDIATE RELEASE: Pittsburgh, PA – Heyl & Patterson Inc., a specialist engineering company headquartered in Pittsburgh, is part of a team to be awarded with Power Engineering magazine's 2010 Coal-Fired Project of the Year. The project, "DryFining," created a new technology for coal-firing power plants that improves fuel quality, decreases volatile gas emissions, and reduces a plant's operating expenses and maintenance costs.
The project was led by electric service provider Great River Energy of Maple Grove, MN, and launched in December 2009. Coal Creek Station in Underwood, ND, operated by Great River Energy, was used as the test facility.
"DryFining" is a combination of drying and refining. This fuel enhancement technology simultaneously dries and refines lignite, which a form of coal that is softer and contains more moisture. Lignite is ordinarily burned as it is mined, but its water content causes it to produce a lower quality fuel.
Heyl & Patterson custom-engineered a series of Fluid Bed Dryers for the project, which use waste heat from the plant's existing processes rather than expensive primary fuel, to gently dry the lignite and cause it to burn cleaner and more efficiently.
The drying process also reduces gases such as carbon dioxide (CO2) and removes compounds containing sulphur and mercury, making the fuel less volatile and of higher quality.
The alternative would be to add to existing emissions control equipment at considerable capital and operating expense, which would drive up the cost of power to consumers.
"Utilities across the country have been seeing increases in the cost of generating and transmitting electricity, with power bills up to ten percent higher than previous years," says Jeff Morris, Vice President of Heyl & Patterson. "Our project was able to help provide a sustainable, cost-reducing solution utilizing existing energy from within the power plant."
Over 400,000 tons of lignite has been processed since the project's inception.
This innovative technology has great potential for other power plants throughout the world to become cleaner and more efficient. In the United States alone, 35 power plants burn lignite. An additional 250 plants burn other types of coal with high moisture content.
If used by new and existing power plants, this technology could significantly reduce air emissions.
In addition to Great River Energy and Heyl & Patterson, the DryFining team includes the U.S. Department of Energy's National Energy Technology Laboratory, Lehigh University's Energy Research Center, the Electric Power Research Institute and engineering construction contractor WorleyParsons.
About Heyl & Patterson Inc.:
Founded in 1887 in Pittsburgh, Heyl & Patterson provides high quality, reliable and custom-engineered solutions for bulk material handling and thermal processing applications around the world. Heyl & Patterson evolves with the industries it serves, combining cutting-edge technology and innovation with extensive experience. Products and services include Railcar Dumpers, Rail & Barge Movers, Barge Unloaders, Thermal Processors, High Efficiency Dryers and Coolers, Calciners, Bulk Material Processors, Pilot Plant Testing, Engineering Studies and Field Service.
For more information about the Fluid Bed Dryers used in the DryFining project, click here: