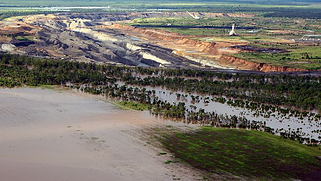 In the past few weeks, Australia has suffered the worst flood in its history. With an estimated cost of about $5 billion, it's shaping up to be the nation's most expensive natural disaster. Satellite views of the northeast state of Queensland show an affected area the size of France and Germany combined. In Brisbane alone, Australia's third-largest city, as many as 20,000 properties and 200,000 people have been affected. And economically, the worst hit sector is expected to be the coal industry.
Some of the biggest coal producers in Australia have suspended sales contracts and production runs until the waters recede. Australia has a large number of mining-related engineering companies, and the most directly impacted will be those supplying bulk material handling equipment, mining services and large infrastructure contracts. Some analysts even predict that the flooding and damages may result in more demand for engineering and construction services, similar to the aftermath of Hurricane Katrina in New Orleans. Some of the railroad tracks used to transport coal from the mines to the ports, a distance of nearly 300 miles, have been completely washed away.
The entire first-quarter 2011 coal production schedule will be affected. Even though some rail lines are expected to re-open this week, it's unclear when most of the mines will resume production. In addition, a record-low 300,000 metric tons of stockpiled coal sits in the harbors, but some ports do not expect to return to full export capacity until the end of March, as the mines and rail lines recover from the damage. Of course, a return to normal shipping levels is "pending no further significant rain."
Australia accounts for about two-thirds of the global coking coal trade, with approximately 90% coming from Queensland.