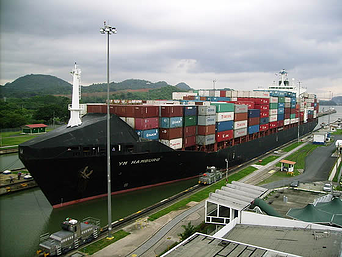 The idea of cross-country route across Central America was conceived by the Spanish, abandoned by the Scottish, initiated by the French and completed by Americans. A century after the Panama Canal transformed global trade, a new "dry canal" could someday link Colombia's Atlantic and Pacific coasts as an alternative to the Panama Canal. And it would be run by China.
The 130-mile rail line would run from Cupica on the Pacific coast to a new city near Cartagena on the northern Atlantic coast. The railway would facilitate the export of raw materials such as coal, and would pave the way for other Chinese imports. Colombian-sourced raw materials would make the return trip to China.
China has ramped up investment and lending to developing Latin American countries, a strategy likely aimed at securing access to the raw materials needed to fuel its fast-growing economy. According to reports, this is just one of a massive series of Chinese proposals that would boost transport links with Asia and improve Colombia's precarious infrastructure.
China obviously has the ability to construct a rail line from Atlantic to Pacific, complete with railcar unloading systems and ship unloaders at both ends. The Chinese carved a 340-mile railway to Tibet, rebuilt Angola's railways and are also building a new industrial port in Brazil. The question is whether this railway would be cheaper or faster than the Panama Canal, which is only a third as long and undergoing a $5.25 billion expansion to double its capacity. Why start from scratch when something already exists to do the job?
Panama even already has its own 48-mile railway running from the Atlantic to the Pacific.
The proposed railway may not have the same impact of the Panama Canal a century ago, but it would be a symbol of China's economic incursions into a region that the U.S. once considered its backyard.
The new railway is just in the planning phase, so it's possible it will become yet another cross-continent pipe dream. Spain first proposed the idea in 1523, but technology at the time made it impossible. An attempt by Scotland in 1698 bankrupted the country. France attempted a canal in 1876, led by the designer of the Egypt's Suez Canal, but engineering issues and disease were too much to overcome.
The U.S. planned to build the Nicaragua Canal in 1899, but revived France's project in 1903. President Theodore Roosevelt believed that a U.S.-controlled canal held vital strategic value and encouraged Panama, then part of Colombia, to secede and hand over control of the waterway. The Canal opened in 1913, and it accounts for about five percent of world trade.
In 1977, President Jimmy Carter signed a treaty that would return ownership of the canal to Panama in 1999.
For more information about Heyl & Patterson, the products we manufacture and the industries we serve, click here: