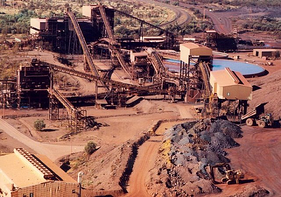 Iron ore was one of Australia's commodity success stories from 2009-2010, and will attempt to continue its healthy performance in 2011. Industry volatility, pricing, mergers, huge investments and expansions are now on the scene, not to mention record flooding in Queensland that has affected the mining industry. With over 380 senior executives expected to be in attendance, the 14th Annual Global Iron Ore & Steel Forecast will continue its role as Australia's premier event for the region's iron ore and steel industry. Heyl & Patterson will be exhibiting, along with local rep Seevinck & Associates.
Among the topics to be discussed:
What can we expect from 2011 and beyond?
Understanding physical and financial spot markets
Benefits of applying floating price mechanisms to commodities instead of benchmark prices
Trends in the global steel supply chain
China steel and raw material markets outlook
Status of Korea's steel industry
Global Iron Ore will feature presentations from, among others, Sam Walsh – CEO of Rio Tinto Iron Ore; Tony Ottaviano – Vice President, Planning of BHP Billiton Iron Ore; Alan Heap – Managing Director, Global Commodity Analysis of Citi Investment Research; and Dr. Geoff Raby – Australian Ambassador to China.

The Global Iron Ore & Steel Forecast will be held on March 21-24 at the Pan Pacific Perth in Perth, Western Australia. Heyl & Patterson will be located at Booth #6. Please direct any questions to David Phillips at dphillips@heylpatterson.com.
For more information about Heyl & Patterson, the products we manufacture and the industries we serve, as well as the events we attend, click here: