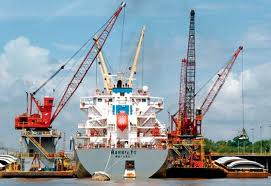 The busiest cargo port in the western hemisphere is the Port of South Louisiana. It extends 54 miles along the Mississippi River between New Orleans and Baton Rouge. About 6000 vessels pass through on an annual basis, and it accounts for 60% of all raw grain exports from the American Midwest. Grain and other commodities such as coal, ore, wood chips, sand, feed and salt are classified as bulk cargo. As the name implies, bulk cargo is transported unpackaged in large quantities, and is often transferred from ship to shore by some form of bucket unloader.
The 10th Bulk Ports, Terminals & Logistics Conference, coordinated by Dry Cargo International magazine, is a venue that focuses on the global demand and economic outlook for dry bulk commodities and the bulk materials handling industry. From ship owners to commodity traders, port authorities to logistics providers, Bulk Ports, Terminals & Logistics promises to examine the designs, implementation, expansion and traceability of bulk materials from unloading through storage and delivery.
Heyl & Patterson will be attending Bulk Ports, Terminals & Logistics, having had a relationship with ports and the bulk material handling and coal handling industries for over a century with our continuous barge unloaders, grab bucket barge unloaders and barge movers.
Among the topics to be discussed at the convention:
Bulk terminal design
Dry bulk shipping trends and impact
Bulk port and terminal management issues
Major and minor commodity trade flow analysis
Ship terminal interface development and safety
Improving a coal export terminal's handling systems
Featured speakers at Bulk Ports, Terminals & Logistics will include Olle Ostensson – President, Caromb Consulting; Fred Doll – Managing Director, Doll Shipping Consultancy; Wim Leuyckx – Commercial Director, Euroports Belgium; Stewart Graham – Managing Director, Oceanport Shiploaders; Vic Stoltz – Coal Terminal Manager, Port of Seward; and Hugo du Mez – Business Developer, Port of Rotterdam.
Bulk Ports, Terminals & Logistics 2011 will be held on May 15-17 at the Crowne Plaza Hotel in Antwerp, Belgium. Contact David Phillips for a convention program at dphillips@heylpatterson.com.
Visit Heyl & Patterson at www.heylpatterson.com. For more information about the company, our products and the industries we serve, click here: