Model trains are synonymous with the holiday season, often circling the base of a Christmas tree to the delight of children and parents alike. These toys have existed since the first real railroads stretched across the early United States. The earliest versions were made of cast iron, and some could even run on steam. In the late 19th century, a German doll house manufacturer named Marklin sought to create an equivalent toy line for boys. The company envisioned a constant revenue stream of add-ons that could be bought for years after the initial purchase.
The toy train set was born. The first complete system was a boxed set containing a locomotive, cars and track all scaled to a particular size, but there was also a line of accessories sold separately. These other items could be added to the original purchase, such as extra cars, different locomotives, extra track, rolling stock and miniature buildings. The idea was a real boon for Marklin, since it encouraged buyers to return again and again to purchase more items to add to their tiny worlds.
The initial sets were made of soldered tinplate and driven by a windup mechanism which only allowed the operator to crank a key on the locomotive and let it roll. Even so, they proved very popular and companies in other countries followed suit with their own toy train sets. However, the Germans dominated the market until World War I, when anti-German sentiment allowed American manufacturers like Lionel and American Flyer to increase their market share. The competition between those companies sparked the association of toy trains and Christmas.
As residential use of electricity became more common in the early 20th century, electric trains gained popularity and grew in sophistication. Train setups could now contain lighting, and the trains had the ability to change direction, emit a whistles and smoke, remotely couple and uncouple cars and even load and unload cargo. Trains also became made of plastic, which could hold more detail.
There had been little distinction between toy trains and model railroads, but in the 1950s as these trains became more sophisticated, they began to be thought of differently. Pull toys and wind-up trains were marketed towards children, while electric trains were marketed towards teenaged boys and sometimes even adults. This began the modern emphasis toward realism in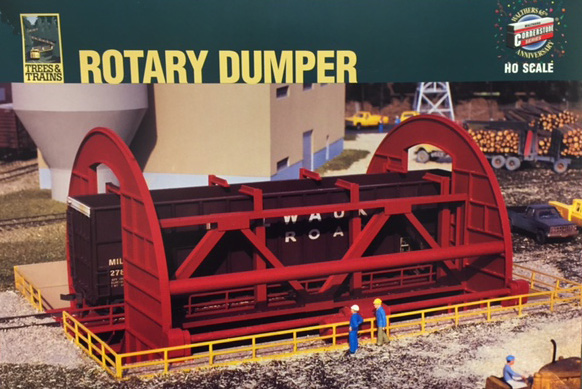 model railroading.
One of the later additions to the many railroading accessories was the rotary railcar dumper. It was only until train sets reached a certain amount of realism that model manufacturers could create a dumper that realistically matched the genuine article.
Heyl & Patterson has manufactured railcar dumpers since the early 20th Century, when model railroading was still in its infancy. Our rotary dumpers are mainly used to transfer steam coal for the production of steam energy, met coal as fuel for steel mill blast furnaces, wood chips for the production of paper, frac sand for fracking operations and iron ore and bauxite for mining applications.
Real-life dumpers with a single barrel have a rotation speed of 35 seconds per car, not including the time to position the car in and out of the dumper, and can dump 5,000 tons per hour and handle 36 cars per hour. Dumpers in tandem configuration have a rotation speed of 85 seconds per pair, and can dump 10,000 tons per hour and handle 50 cars per hour. Railcars that must be uncoupled once they're positioned in the dumper are called random cars, while unit train cars remain coupled and the coupling rotates during the dumping sequence. Most model trains contain random cars, since their couplings are not made to be rotated and could cause the trains to derail.
Heyl & Patterson has been in business since 1887, and helped innovate railcar dumper technology. Heyl & Patterson Railcar Dumpers are in operation all over the world.
To learn about real rotary railcar dumpers associated with real trains, click here: