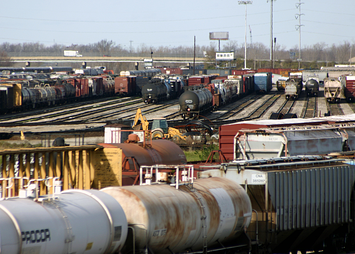 The more efficient an oil sands operation is, the more profitable it can be. The crude by rail industry has become an important means of transporting oil within Canadian provinces, to the lower 48 states, and to Europe and Asia. Rail has become so vital because development of pipelines such as the Keystone XL have been delayed, and construction on pipelines for oversea exports is just getting under way.
Energy consumption is not letting up, and energy independence in the United States has taken center stage. In the case of the Keystone XL, oil is intended to be delivered to Midwestern states and the Gulf of Mexico to lessen the country's dependence on Middle Eastern oil, but environmental hurdles have interfered.
Canada needs to deliver the oil somewhere. Discussions for yet another Canadian pipeline that would avoid environmentally controversial territories and deliver oil to the U.S. by 2018 have been brought to the table, according to Bloomberg. Meanwhile, the Associated Press reports that another key pipeline would extend from Canada to the Pacific for the delivery of oil to Asia, and it would help to satisfy the mounting demand stemming from that region.
With demand for rail on the rise, an operation needs to remain as efficient as possible. That means that a powerful locomotive should not be used to advance railroad cars over short distances. For those smaller moves, it would be a waste of time, finances and energy resources. However, the process has to keep moving in order to capture as much of this liquid gold as possible in the shortest amount of time.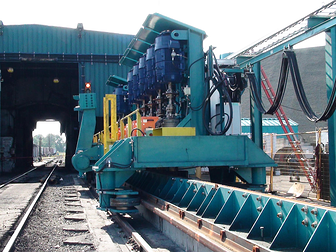 This is where train positioners and railcar movers come in, as these machines help bridge the gap between the harvesting and processing of oil. Heyl & Patterson has designed and manufactured these machines for decades, ranging from small railcar movers that securely capture a railcar's truck frame from a steel runway adjacent to the railroad track, to more robust train positioners with an electromechanically propelled carriage-mounted arm that travels back and forth on its own parallel track system. The smaller system can move groups of 10 cars, while the larger system can move entire trains of 200 cars.
Train positioning allows an operation to move railcars filled with commodities such as crude oil for short-duration trips, such as between tracks. In such instances, the use of locomotive power is impractical and essentially overkill.
As their name infers, railcar positioners position individual railroad cars where they are needed, and they are up for this challenge. These machines can relocate railcars filled with oil sands crude either manually or automatically but never relying on the power of a locomotive, right up to the point of loading or unloading.
Considering that rail movers are powered by electricity rather than fossil fuels, they are easier on the environment and more economical in these situations versus locomotive power. Plus, the equipment can withstand harsh winter weather conditions, so operations will not grind to a standstill when Mother Nature decides to unleash her fury.
While the future of pipeline delivery for oil produced in the oil sands gets sorted out, one thing is clear. Rail will play a larger role in transporting the oil to various endpoints, whether it goes to local refineries or to tankers for export. Exploration and production companies are not letting up on their drilling of the oil sands, and Financial Post projects that production will double by 2022 to 3.8 million barrels per day.
The more efficiently an operation is able to transport oil, the better. For those times when railcars need to be moved short distances, train positioning is the way to go.
Exports are on the rise, and while pipelines get built, energy producers will rely heavily on rail to deliver and load the oil onto tankers. While oil from Canadian oil sands comprises only a fraction of the volume transported to Europe today, it could represent nearly seven percent of the continent's transportation fuel by 2022, according to The Wall Street Journal. As the rail industry becomes more engaged in the process, the need for train handling systems such as railcar movers, will only increase.
The oil sands industry continues to evolve and demand for these resources intensifies, so producers should keep their operations equipped for any possible scenario in order to stay ahead of the game.
To learn more about the various types of train handling systems offered by Heyl & Patterson, click here: