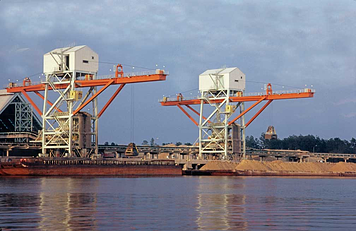 Prior to the Civil War, cities in the Ohio and Mississippi Valleys such as Pittsburgh and St. Louis were wholly dependent upon steamboats as a means of transporting bulk materials. Even after barges entered service, they were unloaded by hand because unloading machines had not yet been developed. Productivity improved along with technology, and new processes were developed for machinery production and mechanization.
Today, there is a variety of choice in domestic river barge unloading. The vacuum unloader looks somewhat like a crane, but moves bulk material from barge to shore through its narrow pickup device by using air as the conveying media. Because the boom must be long to reach all corners of a barge, the machine's throughput is limited by the amount of suction it can generate.
A screw unloader generally fares better, by way of a rotating Archimedes screw that lifts bulk material and deposits it on a covered conveyor. Suction is not a factor, but it can be limited by the size of the screw. Other lower throughput machines include repurposed cranes that have been modified from excavation or construction to duty cycle applications. These cranes generally have a limited reach and depth, with a lattice boom structure that can be too lightweight for the continual needs of a bulk material handling operation.
The capacity of an equilibrium crane is higher still, but it comes with a few caveats. An equilibrium crane is based on hydraulic pressure, with a parallelogram design involving a moving counterweight that balances the boom arm. However, the hydraulic oil can leak over time, sometimes into river water, and the constant motion can drastically shorten the machine's lifespan; An unloader of bulk materials should last longer than the vehicle of the person operating it. A grab unloader boasts an even greater capacity, and can more easily compensate for water fluctuations, but needs the assistance of a front end loader to completely recover all the material in a barge.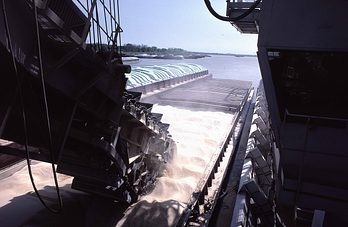 Heyl & Patterson designs Continuous Barge Unloaders (CBUs) can operate in any conditions and are built to last. The CBU has the highest capacity of any unloader on the market, with a free digging rate of 5000 tons per hour. It features low maintenance requirements, a 30-year lifespan and can control dust emissions with a unique zipper duct system.
Visitors to the Coal Handling & Storage Conference can learn about CBUs and how they can benefit river barge unloading operations. Despite the name, the Coal Handling & Storage Conference is a uniquely targeted exhibition for all bulk material handling professionals, and it also attracts producers, consumers and stakeholders from the complete midstream market. The conference provides operating companies with a way to keep abreast of the latest technologies and to interact with others who may have different perspectives.
Among the topics to be discussed at this year's conference:
Coal power generation trends and challenges
Power plant coal handling dust control improvements
Automation in high capacity bulk materials handling
Inland ports and terminals
Building worry-free load zones
Biomass fuel storage and blending
The Coal Handling & Storage Conference will feature a keynote session that features Michael Moehn, President & Chief Executive Officer, Ameren Missouri; and Dan Thompson, Vice President and General Manager of Coal, Dynegy Operating Company. There will also be presentations by Aimee Andres – Executive Director, Inland Rivers Ports & Terminals; and David Boardman – Chief Executive Officer, Stockpile Reports; George Dumbaugh - President, Kinergy; and Michael Stark - Material Handling Department Manager, CDG Engineers.
The Coal Handling & Storage Conference will be held on October 20-22, 2014 at the St. Louis Union Station in St. Louis, MO. Heyl & Patterson will be exhibiting at Booth #406.
For more information about Heyl & Patterson's Barge Unloaders for bulk material handling, click here: