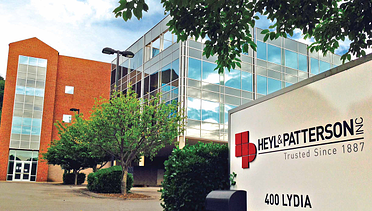 FOR IMMEDIATE RELEASE: Pittsburgh, PA – Heyl & Patterson Inc., a world leader in thermal processing and bulk materials handling equipment, today announced its relocation to a new base of operations at 400 Lydia Street in Carnegie, PA, in a move to accommodate growth.
Heyl & Patterson's new four-story office building is 30,000 square feet, and is a marked increase from the single office floor it previously occupied. Built in 2000, the high-tech facility originally housed a dot-com company. It will be home to the company's administrative, sales, marketing and engineering teams.
"This opportunity matches up with Heyl & Patterson's culture of sustainability and satisfies near-term growth requirements," said John Edelman, President and CEO. "We plan to embrace and display the modern features of the building and deliver an open and creative environment that will match our brand as an innovative engineering company."
"We are tremendously excited to join the Carnegie business community," said Harry Edelman IV, Executive Vice President. "The relocation of Heyl & Patterson's headquarters to Carnegie will allow for a central proximity to our employees, our testing laboratory in Greentree and it provides more space and flexibility for future corporate events."
A pioneer in bulk materials handling equipment, Heyl & Patterson was founded in 1887 in downtown Pittsburgh. The company has been based at a variety of locations in the downtown and surrounding areas over the decades, and has been committed to the area for 127 years.
About Heyl & Patterson Inc.
Founded in 1887 in Pittsburgh, PA, Heyl & Patterson Inc. provides high quality, custom engineered solutions for thermal processing and bulk material handling applications around the globe. Thermal processing products and services include some of the largest high-efficiency Dryers and Coolers in the world, as well as Calciners, Bulk Material Processors and Pilot Plant Laboratory Testing Systems. Heyl & Patterson is the innovator the Rotary Railcar Dumper and offers a wide range of bulk material handling equipment, including Railcar & Barge Movers and Barge Unloaders.
For further information about Heyl & Patterson, click here to subscribe to our blog: