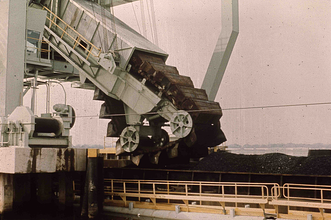 Bulk material handling equipment has evolved over many years. Some of the materials being transported have changed, such as specialized sands used in the oil and gas industry and new potential energy sources such as biomass, plus the volumes have increased and the terminals have become much more sophisticated. Even so, many of the basics in the industry have remained the same over the years.
Heyl & Patterson Inc. has been in this industry for 127 years, and the design and engineering of bulk material handling equipment is in the company's blood. It is now second nature, but it is sometimes necessary to reflect on the company's roots by examining the basics of the material handling industry in general, and review what is thought of as "high volume, heavy duty" bulk transfer equipment.
There are four primary types of material handling equipment: storage & handling, engineered systems, industrial trucks and bulk material handling equipment. Most people are more familiar with equipment like fork lifts, stacking equipment and industrial trucks that are used in manufacturing and distribution to move, store, control and protect materials and products.
Bulk material handling equipment is used to move and transport free-flowing, non-packaged materials such as ore, coal, wood, sand, gravel, stone, cereals and both liquid and solid waste in bulk form. Most of the equipment in the bulk category is used for moving large volumes of material.
Conveying equipment moves the material in a predetermined vertical, horizontal or inclined path. The material may be moved by gravity, belt, apron, bucket, screw, vibration and pneumatic conveyors. Power cranes and shovels are also considered bulk moving equipment and they move the material in "discrete loads."
Bulk transfer equipment in general is designed for handling unpackaged, free flowing materials. The handling of these materials requires that the machinery both support their weight and confine them either to a desired path of travel for continuous conveyance or within a container for handling in discrete loads.
Wet or sticky materials may also be handled successfully by some of the same machines used for bulk materials. When constructing bulk handling equipment, an engineering or manufacturing company must consider the size of component particles, how it flows, how abrasive and corrosive the material may be, potential environmental impact and moisture content of the material.
Equipment that transports material continuously in a horizontal, inclined or vertical direction in a predetermined path is a form of conveyor. There are many different methods that engineers and designers can choose to move the material. They select from the following methods and in some cases, may combine several into a single application to convey materials: gravity based (chutes where the product is loaded at the top and flows to the bottom) belts, aprons, bucket, hoist, screws, drag-line, vibrating or oscillating, and pneumatic.
Unlike a large segment of the material handling industry that provides standard product configurations (forklifts, conveyors, stackable racks, etc.), Heyl & Patterson concentrates on high end, heavy duty bulk transfer equipment. These machines are located at the transfer points between river and terminal, or rail and plant. Although the company uses some of the aforementioned basic components, most of our projects are custom designed to meet the needs of a specific application or client. This equipment is used to load, unload and transfer materials like ore, sand, grains and other bulk materials. Heyl & Patterson's core product line includes rotary rail car dumpers, continuous bucket barge unloaders and railcar movers, and has provided high volume, heavy duty bulk transfer equipment since 1887.
For further information about Heyl & Patterson, our equipment or the industries we serve, click here to download our corporate brochure: