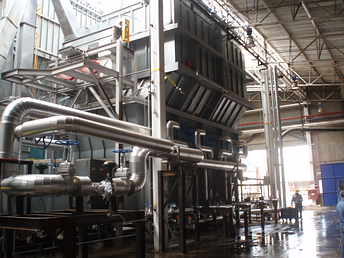 A powder is a bulk solid material composed of a large number of very fine, dry particles that flow freely when held at an angle. These substances are a type of granular material that have finer grain sizes, so they have a greater tendency to clump when flowing, as opposed to coarser materials that do not form clumps except when wet. Due to their small particle size, powders are more cohesive and more easily suspended in gas.
Many powders are combustible, particularly metals or organic materials such as flour. Due to their high surface area, they can combust with explosive force if ignited. Flour mills are particularly vulnerable to such explosions without proper dust mitigation efforts.
Powders are commercially important in industrial applications from pharmaceuticals to energy production. Because of their importance to these industries, powders have been studied in great detail through chemical engineering, mechanical engineering, chemistry, physics, geology and other disciplines.
The International Powder & Bulk Solids Conference & Exhibition, also known as PTXi, attracts most of these disciplines and industry sectors. It is a biennial technical training event that delivers the latest innovations and best practices in dry processing, bulk material handling, storage and particle technology. This highly competitive industry requires engineers to stay up to date with the latest innovations and procedures. As an industry leader in the design and manufacture of equipment utilized for powder and bulk solids processing, Heyl & Patterson will be on hand to exhibit.
Heyl & Patterson offers custom engineered Fluid Bed, Rotary and Flash Dryers and Coolers, and are experienced providers of some of the largest units in the world, with both direct and indirect heat transfer systems. The company's Rotary Calciners feature efficient high-temperature processing in controlled environments, and other Processors delump, press, granulate, agglomerate and dewater. And because this equipment is a significant investment for any organization, the company offers pilot plant testing and toll processing that are second to none.
Among the topics to be discussed at the convention:
Understanding the causes of powder & bulk material handling problems
Fluid bed dryers with integrated heat exchangers
Safe handling of combustible dusts
Common challenges in chemical handling
Nanotechnology advancements and applications
Volumetric and gravimetric feeder design to ensure reliable flow
PTXi International will feature a keynote technology panel to identify compatible dust hazards and hazard mitigating strategies. The panel will include Amy Theis - Director of Risk Management Services, Fauske & Associates; Dr. Johannes Lotterman - Head of Projects and Expansion, Rembe Inc.; Gary Johnson - Chemical Engineer & Consultant, Workplace Exposure Solutions; David Grandaw - Vice President of Sales, IEP Technologies; Bill Stevenson - Vice President of Engineering, CV Technology; Jason Krbec - Engineering Manager, CV Technology; and Dr. Vahid Ebadat - Chief Executive Officer, Chilworth North America.
PTXi International will be held on May 6-8 at the Donald E. Stephens Convention Center in Chicago, IL. Heyl & Patterson will be located at Booth #1201.
For further information about Heyl & Patterson and the events we attend, click here to subscribe to our blog: