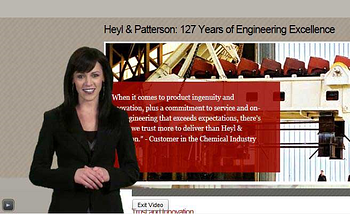 The current version of the Heyl & Patterson website went live in 2010, and it included a woman whose identity has been shrouded in mystery. Some believe she is related to the company's owners, and others believe she was simply hired as a model to welcome vistors to a website. Nothing could be further from the truth. Her name is Heyland Patterson, and this is her story.
She was born is the shadow of a West Virginia coal mine in 1970. She grew up as a tomboy, often playing with her older brother's dump trucks and Lionel trains, showing a particular affinity for the rotary dumper. She found it fun to transfer sand and other bulk materials from the railroad cars into the trucks, and would often study their workings late into the night.
As she grew, she began to display a fondness for the processing of those materials. When her parents gave her a chemistry set for her twelfth birthday, she took to it like a fish to water. Young Heyland somehow developed a rudimentary fluid bed dryer out of two Bunsen burners, an aluminum tube and a box fan, and used her invention to win the state science fair.
Heyland attended college at Stanford University on an engineering scholarship, and became the youngest person to graduate summa cum laude. While in college, she formed a garage band named Biochar, which pioneered the genre of Calciner Rock. The band allowed her to practice music and experiment with creating renewable energy from wood at the same time, while her homemade calciner provided the band's own light show.
After graduation, she learned about Heyl & Patterson in Pittsburgh, and applied for an engineering position right away. She became a mechanical and process engineer, and is usually so busy that she is rarely seen around the office. When the website was redesigned, she volunteered to welcome visitors to it, just to prove that she exists.
To ask Heyland Patterson any questions or to catch a glimpse of her, or for more information on Heyl & Patterson, subscribe to our blog: