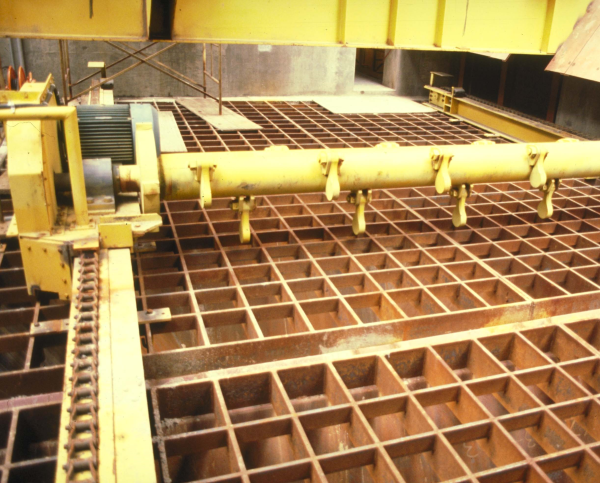 Bitterly cold temperatures keep people indoors, but it's largely business as usual for the unloading of bulk materials. Even in the extreme cold, the work still needs to be done. As temperatures drop, materials such as coal, coke, lignite, iron ore and wood chips tend to clump together as the water moisture they contain turns to ice. In the case of coal, a load can freeze nearly solid if the haul is more than one day away from its receiving station.
The coal is already treated with antifreeze when it is loaded, but that does little good by the time it arrives because it could be several days before it is unloaded. The problem is in getting the material broken up and flowing.
Clumped or frozen materials are easily discharged with a Rotary Railcar Dumper through the single opening in the top of a coal car, but not so easily through a bottom dump railcar's smaller chutes. These types of cars often must be kept in thaw sheds overnight to allow the unloading process to be more free-flowing. Most thaw sheds are gas-fired and are barely wider than the railcars they warm. The heat transfer is radiant, which feels a bit like standing in the sun. In cases of subzero temperatures, that may not be enough.
Multiply all that by the number of cars in the train, plus the additional problem in getting the frozen hopper doors open. One current solution is to use an open flame and levers to pry the doors open. Applying an open flame mere inches away from a few tons of coal may not be the most reliable method.
Heyl & Patterson's Hammermill works in conjunction with a Rotary Dumper, and is a better alternative. It relies on brute force to break up frozen materials, but is a safe and energy efficient means to do the job. It is a proven method worldwide, from Minnesota to Siberia.
The Heyl & Patterson design incorporates a series of 30-pound blunt head hammers that are pivot-pinned on a rotary shaft, which barrels through even the worst frozen coal. The hammerheads are positioned to maximize crushing across the total grizzly. There are several drives for the rotary shaft and traverse drive, enabling the Hammermill to travel in either direction under the Dumper Unloader, breaking upoversize material while simultaneously cleaning the grate. The drives are designed to be protected from the dropping coal, and the unit is stored at one end of the grizzly, out of the way during warmer months.
The Hammermill travels speeds of 30 feet per minute under normal circumstances and three feet per minute in the most severe conditions. It allows companies to continue their operations all 12 months of the year. The traveling Hammermill can be incorporated into a new installation or retrofitted into an existing facility.
Increase wintertime production by utilizing the Hammermill to achieve your operating goals. For more information, click here: