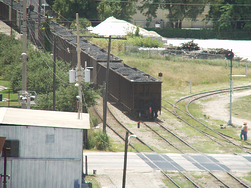 Coal is primarily used as a solid fuel to produce electricity and heat through combustion. World coal consumption was 7.99 billion tons in 2010, and is expected to increase 48% to about 9.98 billion tons by 2030. Coal can be delivered by truck, rail, barge or ship, and some power plants are even situated near coal mines so coal can be delivered by conveyor systems.
A coal train called a "unit train" can be over a mile long, containing up to 140 cars carrying 100 tons each, for a total load of over 14,000 tons. A power plant under full load requires at least one coal delivery of this size every day. Plants may get as many as three to five trains a day, especially in peak season during the hottest summer or coldest winter months when power consumption is highest.
Modern unloaders use rotary dump devices, which eliminate problems with coal freezing in bottom dump cars. The unloader includes a train positioner arm that pulls the entire train to position each car over a coal hopper. The dumper clamps an individual car against a platform that swivels the car upside down to dump the coal. Swiveling couplers enable the entire operation to occur while the cars are still coupled together.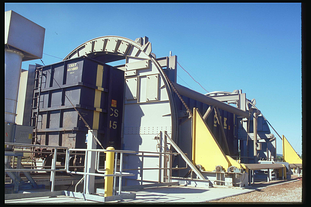 Heyl & Patterson designs Rotary Railcar Dumpers to transfer coal from the railroad to the power plant. Dumpers can operate in any conditions and are built to last. With options like a NTEP-Certified weigh scale, a hammermill that clears frozen materials and single or tandem barrel, this solution simplifies work processes, saves time and money, and creates a safer work environment.
The Coal Handling & Storage Conference is a uniquely targeted exhibition for coal industry professionals who are responsible from moving coal from place to place, and also attracts coal producers, consumers and stakeholders from the complete midstream coal market. The conference provides a valuable way for operating companies to keep abreast of the latest technologies and to interact with others who may have different perspectives. It acts as a showcase for buyers and sellers to exchange information about the latest equipment, technologies and services available to the industry.
Among the other topics to be discussed at the convention:
Impact of constantly changing regulations
Challenges of using wet coal
Rethinking safety in the mining industry
New innovations for protecting coal handling equipment
Role of chemicals in controlling dust emissions
Legislation on waterways funding
The Coal Handling & Storage Conference will feature a keynote panel session that includes Richard Whiting, President of Kinder Morgan Energy Partners; and Chuck West, Manager of Coal Procurement, American Electric Power. There will also be presentations by Jack Burgess – Director of Coal Facilities, CSX; Greg Boggio – Fuels Supervisor for Hennepin Power Station, Dynegy Midwest Generation; Paul Vandergeest – President, Belt Conveyor Guarding; and Justin Clift – Industrial Market Specialist, Hazard Control Technologies.
The Coal Handling & Storage Conference will be held on October 22-24, 2013 at the St. Louis Union Station in St. Louis, MO. Heyl & Patterson will be exhibiting at Booth #406.
For more information about Heyl & Patterson's Rotary Railcar Dumpers for coal material handling, click here: