Railways have existed in India since 1853, and several organizations have enforced standardization among the various railway systems over time. Since 1957, the Research Designs and Standards Organization (RDSO) has been the sole authority operating under the India Ministry of Railways. The latest rule to standardize Indian railways is the RDSO's G-33 Rev 1 Requirements. The "G-33" part of the title represents a mix of new and existing rules that are specific to Wagon Tipplers along the railroads.
G-33 Rev1 Requirements dictate the dimensions (width, height, length) of the rail wagons to be handled, that weigh bridges must be integrated into the rail lines and that any auxiliary equipment should not damage the rail wagons in any way. The acceptable styles of Wagon Tipplers are the C-Frame Rotary Tippler (above) and the Turnover Wagon Tippler (below). The requirements mandate that wagon tipplers feature:
25 tips per hour
Wagon Tippler capacity of 140 tonnes, considering 32.5-tonne & 25-tonne axle loads for DFC & feeder routes
Moveable articulated side wall design
Positioning of wagons by Side Arm Charger
Mandatory wheel gripper
Mandatory retractable wheel chocks on outhaul side
Wagon bogies spring release mechanisms
Forces exerted on top clamp cylinder should not be more than 1.5 tonnes per clamp pad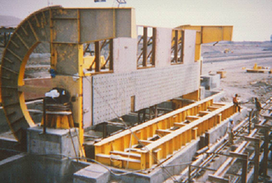 This list of requirements is what brings Heyl & Patterson to the Powder & Bulks Solids India Conference. Executive Vice President Harry Edelman will give a presentation on Wednesday, October 9 on "The Current State of RDSO G-33 Rev1," which addresses how equipment currently offered by Heyl & Patterson can satisfy the stringent RDSO rules.
Powder & Bulks Solids India is the Indian event for mechanical processing and bulk solids handling technologies. The exhibition and accompanying conference is a high quality get-together for process technicians, process engineers, production managers and scientists. Manufacturers and suppliers of mechanical processing and material handling technologies showcase all kinds of solutions for conveying, transporting, storing, screening, mixing, size reduction and granulation for powder, granules and bulk solids.
Heyl & Patterson manufactures Rota-Side Wagon Tipplers and side arm chargers for the Indian market through an exclusive relationship with FLSmidth India. While some tippler manufacturers are capable of offering either Turnover Wagon Tipplers or C-Frame Rotary Tipplers, Heyl & Patterson offers both models. Either style can be installed at a customer's site, depending on the site conditions, and both tippler designs comply with the latest RDSO specifications, G33 Rev 1. Heyl & Patterson also received certification by India's National Thermal Power Corporation (NTPC) in 2010 to manufacture industrial capital equipment in India, essentially becoming the NTPC's preferred supplier.
Other topics to be discussed at the convention will be:
Thermal processing of plastic granular
New concept in material handling
Understanding bulk solids flowability
Safe handling and transportation of solids
Packaging of bulk solids
Explosion protection in fluid bed dryers
Powder & Bulk Solids India will feature a keynote presentation from Dr. Vijay Agarwal from the Indian Institute of Technology in Delhi; as well as presentations from Marcel Droettboom, Editor, Bulk Solids Handling magazine; Professor Marc Jones, Head of the School of Engineering, University of Newcastle; Pabak Mukhopadyay, General Manager of Bulk Material Handling, Larsen & Toubro Ltd.; and John Connolly, Managing Director, Kingfisher Industrial.
The Powder & Bulk Solids India 2013 Exhibition & Conference will be held on October 9-11 at the Bombay Convention & Exhibition Centre in Mumbai, India.
For further information about Wagon Tipplers and Side Arm Chargers, click here to download Heyl & Patterson's brochure: