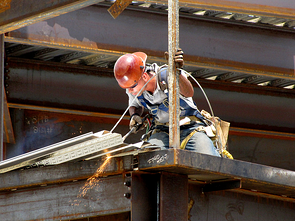 Ferrous alloy production can trace its origin to as early as 2000 BC, based upon manmade ferrous metals found in ancient China and India. More than 4,000 years later, modern iron and steelmakers still use the same carbothermic processes. However, this industry continues to develop technology improvements that are more efficient, productive and inexpensive than longstanding processes to produce high quality ferrous alloys with a wide range of properties and applications.
The "iron and steel industry" is commonly referred to as one entity today, but historically they were separate products. The steel industry is often considered an indicator of economic progress, because of the critical role played by steel in infrastructural and overall economic development.
The Association for Iron & Steel Technology (AIST) is an international technical association representing iron and steel producers, their allied suppliers and related academia. The association is dedicated to advancing the technical development, production, processing and application of iron and steel.

Established in 2004 from the merger of the Association of Iron and Steel Engineers (AISE) and the Iron & Steel Society (ISS), the best practices of both predecessor organizations were incorporated into AIST to create a strong international technical organization that could sustain itself in an environment of continual change.

AIST's member base totals over 15,000, and represent engineers, operators, corporate administrators, researchers and educators from more than 70 nations. AIST members are made of 43% industry suppliers, 30% producers, 25% students and 2% academia. Members actively participate within the association through technology divisions, member chapters, board of directors and the AIST Foundation.

AIST is committed to presenting technical meetings, conferences, exhibits and publications to better serve those involved in the iron and steel community, including steel manufacturers, suppliers, consumers and academics.
The association's major international conference, AISTech 2013, will be held on May 6-9 at the David L. Lawrence Convention Center in Pittsburgh, PA. AISTech consists of more than 350 technical presentations, 400 exhibiting companies and 6,000-8,000 attendees. This annual event brings together technologies from around the world, promoting a global network to help steel producers and suppliers compete in today's global marketplace. Committees will focus on ironmaking, steelmaking, finishing processes, and various engineering and equipment technologies. Heyl & Patterson is a proud member of AIST, and since its founding in 1887, has engineered thousands of machines made with fabricated steel, from Rotary Railcar Dumpers to Fluid Bed Dryers.
For more information about Heyl & Patterson and the equipment we engineer from fabricated steel, click here to subscribe to our blog: