Iron is the world's most commonly used metal and is the main ingredient in steel, which represents almost 95% of all metal used in any given year. World iron production averages two billion metric tons of raw ore annually, and ore with quantities of greater than 60% iron can be fed directly into iron-making blast furnaces. Iron-rich rocks are common worldwide, but ore-grade commercial mining operations are dominated by Australia, Brazil, India and, with higher production than the other three combined, China.
Mining iron ore is a high volume / low margin business, as the value of iron is significantly lower than base metals. It is highly capital intensive and requires significant investment in infrastructure, such as rail, in order to transport ore from the mine to a freight terminal. Because of this, iron ore production is concentrated in the hands of a few major players.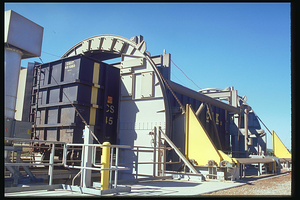 Heyl & Patterson has served the global iron ore market for decades, and specializes in the unloading of bulk materials with Rotary Railcar Dumpers, also known as Wagon Tipplers. Heyl & Patterson engineers single or tandem dumper unloaders to provide long life and low maintenance, and Train Positioners to move railcars quickly through the unloading process. The railcar unloading system can also include a Hammermill to break up clumped or frozen material and an In-Platen Weigh Scale to measure the weight of railcars before and after unloading. Each system is custom-built for each application, based on the site specifications and customer needs, and the company will be represented at the Global Iron Ore & Steel Forecast.
The 16th Global Iron Ore & Steel Forecast Conference represents the largest gathering of iron ore executives in the world. Industry management, resource analysts and fund managers recognize this as the conference to keep up to speed on the global outlook for iron ore supply and demand balance, where industry leaders comment on their future plans, release new announcements into the market and forecast iron ore prices and trends. The 2012 Conference saw record attendance levels, and the event will again be co-located with an exhibition and supporting process and benefication conference.
Among the topics to be discussed at the conference:
Global economic and financial outlook
Iron ore market outlook
Iron ore investment trends and opportunities
Africa's challenges to becoming a major producer
Project management for major projects
Iron ore supply pipeline
Global Iron Ore will feature opening remarks from Clarke Wilkins, Director of Metals & Mining Research with Citi Investment Research, and well as presentations from Jimmy Wilson – President, BHP Billiton Iron Ore; Greg Lilleyman – President of Pilbara Operations, Rio Tinto Iron Ore; Ken Brinsden – Managing Director, Atlas Iron Limited; and Mike Young – Managing Director, BC Iron Limited.

The Global Iron Ore & Steel Forecast will be held on March 18-20 at the Pan Pacific Perth in Perth, Western Australia. Heyl & Patterson and local rep Seevinck & Associates will be located at Booth #11.
For more information about Heyl & Patterson's capabilities in Australia,