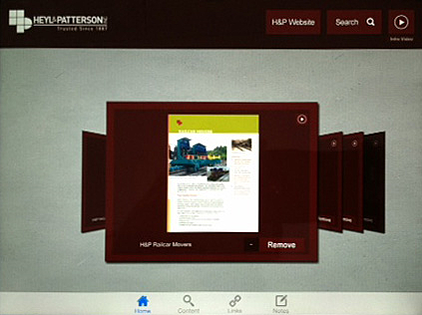 According to software developer Symantec, organizations understand that "app culture" is not going away, and in order to avoid falling behind, they need to integrate themselves into that world. iPhone and Android operating systems have significantly changed how cellphones function, making them about productivity in addition to communication. Currently, 71% of companies are either investigating or are actively deploying their own mobile applications.
Trade show attendees have noticed a new feature in the Heyl & Patterson booths in 2014. In an effort to equip its sales and marketing team with the latest technology, Heyl & Patterson has developed a proprietary app.
The influx of mobile devices into the workforce has created ample mobility, an increase in shared content, and instant access to presentations. An app on those devices was needed to target the company's specific needs in order to increase productivity and streamline workflow. The developed app has a simple user interface, and is designed to distribute and share literature, photos, videos, presentations and other information that are needed in the industry. Need a brochure of Railcar Dumpers? It's there. How about a white paper on torrefaction of wood biomass? No problem. The app even features a home screen that can be customized to any type of trade show, conference or meeting, with a video that can be looped to automatically run over and over. It's like having an entire marketing arsenal at your fingertips, and shows how Heyl & Patterson continues to set standards as an industry thought leader.
The Heyl & Patterson app is only for use on the Apple iPad OS, and is not for sale on the Apple iTunes Store.
For further updates about Heyl & Patterson, click here to subscribe to our blog: