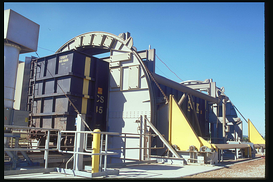 Coal is the most abundant fossil fuel on the planet. It is a relatively cheap fuel, with some of its largest deposits in regions such as China, India and the United States. Solid coal cannot directly replace natural gas or petroleum in most applications, since petroleum is mostly used for transportation and the natural gas not used for electricity generation is used as heating fuel. Coal can be converted to gas or liquid fuel, but the efficiencies and economics of such processes can make them unfeasible.
Coal can be delivered by truck, rail, barge, bulk cargo ship or coal slurry pipeline. Some plants are built as close to the mines as possible, and in these cases, coal can be delivered by conveyors. A large coal train called a "unit train" may be over a mile long, containing as many as 140 cars with nearly 122 tons of coal in each car, for a total load of over 17,000 tons. A large plant under full load can require at least one delivery of this size every day. Some plants can even receive as many as three to five trains a day, especially during peak seasons when power consumption is high.
When coal is delivered by rail or barge, Heyl & Patterson goes to work. Heyl & Patterson manufactures Rotary Railcar Dumpers to transfer coal from railroad supply lines to power plants, and Barge Unloaders to unload river shipments. In addition, our Fluid Bed Dryers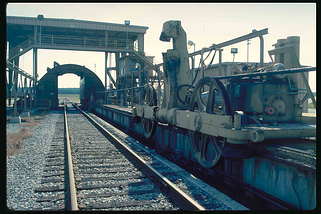 process the material in a rising flow of gas, and Calciners "torrefy" wood so it can be co-fired with coal. All product lines will be part of Heyl & Patterson's exhibit at the upcoming Power-Gen conference in Orlando, FL.
Power-Gen International is a key industry trade show and conference that provides coverage of the trends, technologies and issues facing the coal industry and the rest of the power generation sector. The effects of the Environmental Protection Agency's new coal regulations, which aim to clean up emissions of coal-fired power plants and boost air quality across 27 states, will most definitely be felt at this year's Power-Gen.
Among the topics to be discussed at the convention:
Advanced coal fired generation projects
Transforming the U.S. power industry: Policy, pricing and technology
Flexible capacity options for renewable integration
Gasification and polygeneration
Clean Water Act compliance
Effective maintenance strategies
Power-Gen 2012 will feature keynote presentations from Jon Wellinghoff – Chairman, Federal Energy Regulatory Commission; Gordon Gillette – President, Tampa Electric & Peoples Gas; and Randy Zwirn – President & CEO, Siemens Energy, Inc. and CEO, Siemens AG Energy Service Division.
Power-Gen International will be held on December 11-13, 2012 at the Orange County Convention Center in Orlando, FL. Heyl & Patterson will be located at Booth #1715.

For a free Exhibit Hall Pass to Power-Gen 2012, courtesy of Heyl & Patterson, click here: