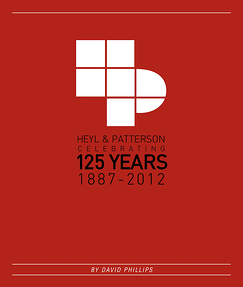 To mark the 125th anniversary of the founding of Heyl & Patterson Inc., the company held a event on October 6, 2012 at Phipps Conservatory in Pittsburgh. A company history book, "Heyl & Patterson: Celebrating 125 Years, 1887-2012" was presented to a group of more than 170 attendees, including employees, retirees, board members, customers and other special guests. Many amateur historians offered their insights, memories and artifacts so that this history of Heyl & Patterson could come to life.
Heyl & Patterson has the privilege of observing its 125th year of business, an accomplishment that can make its employees feel justly proud. Few private corporations can make this claim, and many of today's corporate giants fall short of such a record of longevity. It is hoped that readers of this book will develop a clear understanding of the important role Heyl & Patterson played in the development of its industry.
Through its many years of service, Heyl & Patterson not only survived, but grew and evolved. The company was formed in 1887 as a partnership between Edmund Wendell Heyl and William Joshua Patterson, two men who shared a basic belief in the American Dream. What resulted was a sales agency that sold industrial chains and elevator buckets, and later offered pieces of shafting for elevators and conveyors based on Patterson's sketches. This evolved into complete elevators and conveyors, which required the hiring of draftsmen to produce the drawings. Heyl supplied the business savvy, while Patterson was the inventor and the real drive to build and grow their fledgling company.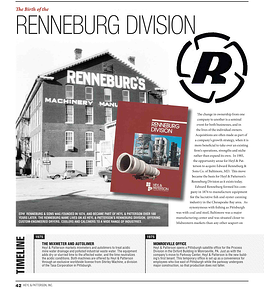 Heyl & Patterson grew significantly in its first century, boosted by a number of patents that were either new innovations or improvements to existing products.
Heyl & Patterson was built by people whose capabilities ensured that machines commonly known as Continuous Barge Unloaders up and down the Mississippi River are not known generically as "CBUs," but unofficially as "HPs." These machines were built so well that they have such a high degree of unintentional brand recognition, and it is to men like these that the current employees owe an eternal debt.
Heyl & Patterson would not be exist if not for Patterson the inventor, Heyl the businessman, a wave of immigrants after World War II, or the characters over the years who built the company into what it is. Names like Read, O'Leary, Bickley, Mason, Rose, Paul, Eckert and the Kreuzer brothers ring out in its history. The current business is built upon their greatness.
Once a small sales office, Heyl & Patterson's technological expertise has grown into a full service engineering company specializing in processing equipment, and bulk materials handling systems. Throughout the years, the company has pioneered new products, held dozens of patents and has become the industry leader in the implementation of others.
This 60-page hardcover book, which contains little-known vignettes about the work and lives of Mr. Heyl, Mr. Patterson and the business they built, was written by David Phillips, marketing specialist with Heyl & Patterson. The book is just part of Heyl & Patterson's celebration to honor its 125th anniversary. For more information about the book and other events, visit www.heylpatterson.com.
To browse the Heyl & Patterson history book as a digital flipbook or download a PDF version, click here: