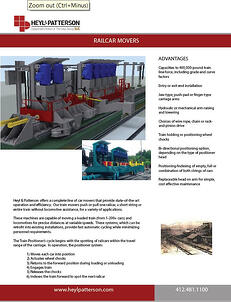 Heyl & Patterson provides custom-engineered solutions in a wide range of equipment, and can help customers determine the best available equipment for their operations. These solutions include a complete line of railcar movers that push or pull a railcar, string of cars or an entire train without locomotive assistance. As part of our continuing efforts to update our customers on our product lines, a new Railcar Movers brochure has been added to the Bulk Transfer Division line of literature.
The key image on the front panel shows our newest machine, a rack & pinion train positioner, from 3D concept drawing to reality. As part of the Bulk Transfer Divison, this new brochure is signified by its green color scheme. Our new Railcar Movers brochure includes information on the following machines:
Rack & Pinion Train Positioners, for moving up to 200 cars
Wire Rope Train Positioners, for moving up to 150 cars
Railcar Indexers, for moving up to 30 cars
CUB Railcar Mover, for moving 1-10 cars
Heyl & Patterson train positioning systems can be used for a variety of loading, unloading and repositioning applications. We understand that there are multiple choices in technology, with a range of solutions. In this way, we can recommend the best piece of equipment for your requirements, rather than pushing a single product because that is all we provide.
We work diligently to ensure the utmost protection measures are incorporated into everything we do. The safety precautions built into our equipment collectively work to safeguard against overall component failures, while shielding workers and equipment at optimum levels.
Heyl & Patterson is also your trusted partner after the sale, for your equipment's complete operational life. Our wide range of aftermarket services includes replacement parts and upgrades, inspections and field service.
Literature in the green-branded Bulk Transfer Division also includes Railcar Dumping Systems, Hammermills, Dumper Upgrades and CBU Upgrades.
For more information on Heyl & Patterson's Railcar Movers, click here: