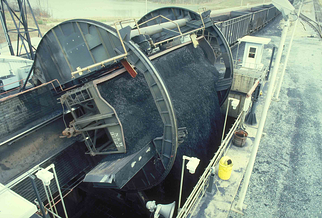 The expense involved in old high lift railcar dumpers led to the evolution of a side discharge machine that remains popular today. This Rotary Dumper, just as with its predecessor, required no modifications to existing railcars, and in turn led to a significant development in how railcars were utilized. A railcar's center of gravity is in the same plane as its coupler, so if railcars rotate about their own couplers, there is no need to uncouple the cars to dump them. This led to the development of the rotating coupler and the "unit train."
When compared to other current dumping methods such as bottom dump railcars, the advantages of rotary dumping become clear. For example, rotary dumping eliminates waste. The sloping bottoms of traditional hoppers can leave some coal inside the railcar even after unloading, usually due to clumped or frozen material. Bottom dump railcars also have the potential to spill their contents onto the tracks, especially if there are any imperfections in the seals of the doors. These reasons often lead to a more lengthy process of unloading.
The rotary dumper is also a safer process. When a load of coal becomes frozen or wet, it can become an unwanted expense and safety hazard. Since a load of frozen coal may not be entirely unloaded in a bottom dump car, the load is sometimes electrically warmed in a "thaw shed" in order to loosen the material. Because the practice of heating a load of coal can be a dangerous proposition, the rotary dumper can alleviate that problem. Even when a load of coal is wet or frozen, the rotary dumper can still quickly unload the coal without increasing labor, demurrage and safety hazards.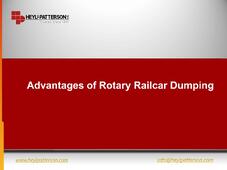 Heyl & Patterson designs Rotary Railcar Dumpers to transfer coal from the railroad to the power plant, as well as Barge Unloaders to handle river shipments. Dumpers and the Hammermills that are often associated with them can operate in any conditions and are built to last. Attendees at the Coal Handling & Storage Conference in St. Louis are about to learn why.
The Coal Handling & Storage Conference is a unique exhibition that attracts coal producers, consumers and stakeholders from the complete midstream coal market. Heyl & Patterson will be presenting the Rotary Dumper side of the rotary dump vs. bottom dump argument. Alfred Midgley, Manager of Bulk Transfer Sales, will present "Advantages of Rotary Railcar Dumping" during the "Coal Loading & Unloading I - Rail" conference track on Thursday, October 18 at 8:30 AM. This presentation will detail the qualities that make rotary dumping preferable method of unloading railroad cars, a topic that this blog tackled several months ago.
Among the other topics to be discussed at the convention:
Challenges in the changing coal industry
Selecting the right equipment for barge unloading
Hidden dangers withing coal silos and bunkers
Open vs. covered coal stockpiles
Traveling and platform coal ship loaders
Challenges to the inland waterway infrastructure
The Coal Handling & Storage Conference will feature a keynote session with Steve Fiscor, Editor-in-Chief of Coal Age. Other presentations by Edward Douberly – President, Utility FPE Group; William Rogers – Managing Executive, Ameren Missouri Fuels Division; Chris Yoder – Fire Protection Products Manager, Pillar Innovations; Mark Gilbreath – Senior Consultant, River Consulting; and John Fillion – Principal, CDG Engineers. The opposite side of the "rotary dump vs. bottom dump" equation will be presented by Gerry Cohen – Manager of Estimating, Dearborn Mid-West Conveyor Co.
The Coal Handling & Storage Conference will be held on October 16-18, 2012 at the Marriott Union Station in St. Louis, MO. Heyl & Patterson will be exhibiting at Booth #406.
For more information about Heyl & Patterson's Rotary Railcar Dumpers for coal material handling, click here: