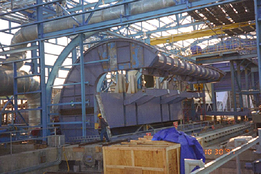 Railways were introduced to India in 1853, and as their development progressed in the 20th century, several organizations grew to enforce standardization and coordination among the various railway systems. Each company formulated its own rules and regulations regarding charging, booking and carriage of passengers and goods. Due to the multiple rules, the Indian rail system was known for its inconvenience.
The Central Standards Office (CSO) was formed in 1930 to overcome the difficulties of the various regulations, and to frame new rules regarding wagon movement from one railway system to another. However, most of the designs and manufacture of railway equipment were entrusted to foreign consultants. With Indian independence and the resultant increase in the country's individual and economic activity, which also increased the demand of rail transportation, the Railway Testing and Research Centre (RTRC) was set up for testing and conducting applied research for the development of railway rolling stock, permanent way structures and other such features. In 1957, both organizations were integrated into a single unit called the Research Designs and Standards Organization (RDSO) under the India Ministry of Railways.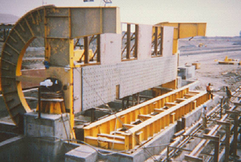 The newest challenge to Indian railways is the RDSO's G33 Rev 1 "Requirements." The "G33" represents rules that are specific to Wagon Tipplers, and as a whole, they are a mix of new and existing criteria. These requirements dictate the dimensions (width, height, length) of the rail wagons to be handled, that weigh bridges must be integrated into the rail lines and that any auxiliary equipment should not damage the rail wagons in any way.
The acceptable styles of Wagon Tipplers are the C-Frame Rotary Tippler (above) and the Turnover Wagon Tippler (right). The requirements mandate that wagon tipplers feature:
25 tips per hour
Wagon Tippler capacity of 140 tonnes, considering 32.5-tonne & 25-tonne axle loads for DFC & feeder routes
Moveable articulated side wall design
Positioning of wagons by Side Arm Charger
Mandatory wheel gripper
Mandatory retractable wheel chocks on outhaul side
Wagon bogies spring release mechanisms
Forces exerted on top clamp cylinder should not be more than 1.5 tonnes per clamp pad
This is where Heyl & Patterson comes in. We manufacture Wagon Tipplers for the Indian market through an exclusive relationship with FLSmidth India. While some tippler manufacturers are capable of offering either only Turnover Wagon Tipplers or only C-Frame Rotary Tipplers, Heyl & Patterson offers both models. Either style can be installed at a customer's site, depending on the site conditions, and both tipplers are capable of meeting RDSO G33 Rev 1 Requirements.
As of this writing, Heyl & Patterson has already completed engineering on one set of two Wagon Tipplers and two accompanying Side Arm Chargers to a customer in India, and has sold two more.
In addition to meeting RDSO Requirements, Heyl & Patterson is certified by the NTPC to manufacture industrial capital equipment in India. The NTPC, formerly known as the National Thermal Power Corporation, is the largest Indian state-owned electric utility company in the country. These machines include Turnover Wagon Tipplers and Side Arm Chargers, which will be used to improve the infrastructure throughout India. Due to the certification, Heyl & Patterson is a preferred vendor of NTPC.
To learn more about Heyl & Patterson's Wagon Tippler capabilities, click here for our brochure: