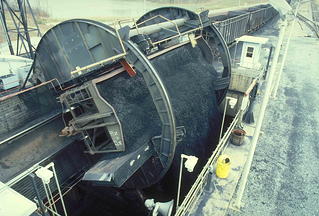 The main purpose of coal handling systems is to transfer the coal as quickly and cleanly as possible as it is moved from one place to another. Loading and transporting are just two stages in the process of moving coal from the producer to the consumer. When transporting by rail, coal must be unloaded from railroad cars and a number of options are available, including rotary dumpers and turnover dumpers, which discharge loads parallel to the rails.
Heyl & Patterson rotary railcar dumpers have been used to unload cargos as diverse as coal, iron ore, bauxite, copper concentrate, lead concentrate, petcoke, wood chips, slag, clinker, limestone, municipal waste and construction waste.
Many coal-fired power plants in the United States receive their fuel in unit trains that have rotary couplers. Used in conjunction with train positioners, Heyl & Patterson dumpers typically unload these trains at rates of 3000-4000 tons per hour. A single combined dumper and positioner operating in Colombia has discharged 800 cars in one day.
Heyl & Patterson's positioning controls feature the latest in human machine interface (HMI) systems that allow the machine operator to access dumper and positioner functions from a touch screen. This provides information regarding the machine's status, as well as fault notification. A recently designed system automatically brings up a picture of any device that needs maintenance attention, alleviating time-consuming troubleshooting.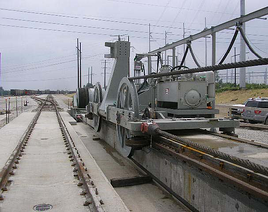 Heyl & Patterson train positioners are typically employed in high-capacity, rotary coupled unit train applications, where fast, automatic cycle times can eliminate the need for operator intervention. Durable and efficient, the train positioner is capable of moving a loaded train or individual railcar for a precise distance at variable speeds. It has sufficient power to be able to move entire trains for unloading in conjunction with rotary dumpers. Train lengths as long as 200 cars have been accommodated. Driven via wire rope or rack-and-pinion, the train positioner can also be retrofitted into existing installations.
While the train positioner is aimed at the heavy end of the market, Heyl & Patterson also addresses the needs of other users with the CUB Railcar Mover for light-duty applications.
Heyl & Patterson is always ready to offer innovative solutions to individual customers' coal handling problems, either with a system that is more or less off-the-shelf, or by custom-designing a system that answers specific requirements.
To learn more about Heyl & Patterson's coal unloading capabilities, click here: