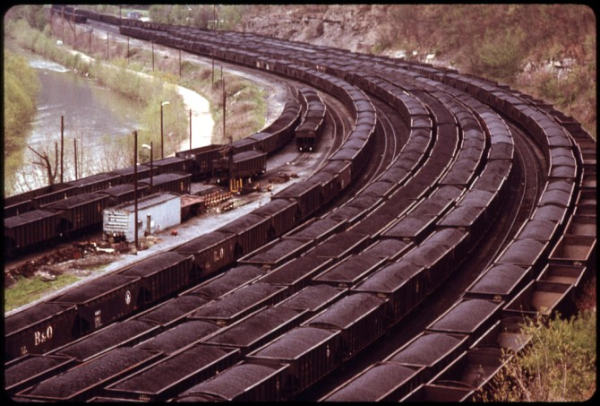 The railcar, as a means of transporting bulk materials, has been in existence for 400 years and actually pre-dates the steam locomotive by 172 years. The first railcars were horse drawn and hauled coal along wooden railway tracks. The shovel, with a good measure of human sweat, was the accepted method of loading and unloading it.
Iron rails were introduced in 1768, and the steam locomotive made its commercial debut in 1803. With the advent of these innovations, the railcar grew in size and carrying capacity, but its basic shape still looked like short, squat boxcar without a roof, and the shovel was still the main unloading implement.
Real progress began with the introduction of the double-axle bogie, about 75 years ago. Railcars could now be made twice as long, but the shovel still dictated their height. The width of the railcar had been determined by the early permanent way builders who wanted to keep tunnels of minimum dimensions. The locomotive would have been the item of rolling stock that imposed the principal restrictions of cross-sectional profile. With this came the setting of underpass heights, station platform positioning and passing track centers.
It is an interesting phenomenon that as diverse as railways have become throughout the world, the statutory clearance profiles of all railway systems are virtually identical. Clearly, the locomotive builders of the European industrial revolution have made a lasting impression.
Even before the arrival of longer railcars that could carry more weight, faster ways of unloading were being sought.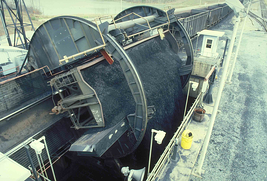 Cars had a variety for doors which collapsed down, opened up or hinged up, allowing a proportion of the contents to spill out. This reduced but did not eliminate the need for shoveling. There were two obvious ways of improving the situation, and thus started the debate on the merits of "turning it upside down" or allowing it to "fall out of the bottom."
Heyl & Patterson has been invested in turning railcars upside down for 90 years. Our Rotary Railcar Dumpers are designed with state-of-the-art features and built-in flexibility, and can include customized options. Because we custom engineer each dumper and maintain the drawings, we can service any machine with upgrades or repairs according to its original specifications. In fact, we can service any dumper, regardless of its original manufacturer. Heyl & Patterson provides superior customer support before, during and after the purchase of every product we supply.
NEXT WEEK: Bottom Dump vs. Rotary Dump

For more information about Heyl & Patterson Rotary Railcar Dumpers,