Iron is the second most abundant metal in the Earth, and iron ore is the lifeblood of the world's steel industry, with about 98% used in steelmaking. Iron ore is mined in about 50 countries, and the seven largest account for about three-quarters of total world production. Australia and Brazil together dominate the world's iron ore exports, each having about a third of total exports. Iron ore is a low-priced bulk commodity, but mining it can only be economical if the deposit is large and easily accessible and transport costs can be kept to a minimum.
Heyl & Patterson has served the global iron ore market for decades, and specializes in the unloading of bulk materials with Rotary Railcar Dumpers. Heyl & Patterson engineers single or tandem dumper unloaders to provide long life and low maintenance, and Train Positioners to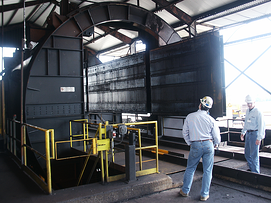 move railcars quickly through the unloading process. The railcar unloading system can also include a Hammermill to break up clumped or frozen material and an In-Platen Weigh Scale to measure the weight of railcars before and after unloading. Each system is custom-built for each application, based on the site specifications and customer needs, and each will be part of our exhibit at the Global Iron Ore & Steel Forecast.
The Global Iron Ore & Steel Forecast Conference is the longest running and best established conference and exhibition dedicated to the iron ore & steel industry in Australia. Resource analysts, fund managers and industry management recognize this as the conference to keep themselves up to speed on the global outlook for iron ore supply and demand balance, where industry leaders comment on their future plans and release new announcements into the market.
Among the topics to be discussed at the conference:
Comprehensive industry reviews and market forecasts
Investment consideration for funding new iron ore projects
Has China's consumption of steel peaked?
Africa's challenges of political risk and infrastructure
Strategic Chinese and Indian investments
Australia's new iron ore provinces in South Australia, Mid West and Northern Territory
Global Iron Ore will feature presentations from Ian Ashby – President, BHP Billiton Iron Ore; David Joyce – Managing Director of Expansion Projects, Rio Tinto Iron Ore; Clarke Wilkins – Director of Metals & Mining Research, Citi Investment Research; and Steve Randall – Managing Director, The Steel Index.

The Global Iron Ore & Steel Forecast will be held on March 20-21 at the Pan Pacific Perth in Perth, Western Australia. Heyl & Patterson and local rep Seevinck & Associates will be located at Booth #11.
For more information about Heyl & Patterson's capabilities in Australia,